Spotsylvania Triathlon – too hot for wetsuits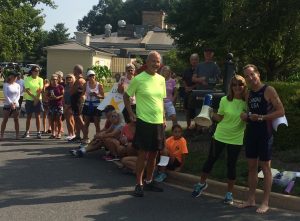 This year's Fawn Lake Triathlon featured sunny skies, a safe venue, friendly volunteers and races for all ages and abilities. However, what was different from the other times Doug Landau has competed in this Spotsylvania, Virginia event was that the water was too warm for wetsuits.  This year wetsuits were not permitted. Other types of flotation devices are always prohibited and participants brought their own swim caps and started in one big wave. This meant that unlike most other triathlons, where there are multiple waves with color-coded swim caps starting in successive time intervals, the first person across the finish line would be the overall winner. Racers would not have to wait until everyone had finished to know where they finished in the overall standings. All they had to do was count as they set out on the run course, which was an out-and-back on a relatively flat paved trail!
The 2017 Triathlon took place entirely in Spotsylvania County, Virginia, consisted of a 700 meter swim in Fawn Lake, a 12.332 mile bike-ride through the Fawn Lake subdivision, and a 5K run on asphalt trails and streets. The swim began and ended on the lovely Fawn Lake sandy beach, located adjacent to the Community Clubhouse. This was lawyer Landau's 4th time competing; his past finishes were 32d, 2nd and then, in 2014, 1st overall. Running only at races and maintaining no run training during the week, Landau was trying to let his lower leg injuries heal after "middle-of-the-pack" finishes at the US National and World Championships over the prior fortnight. So while he was feeling better, and well-rested, he was not expecting first prize this year.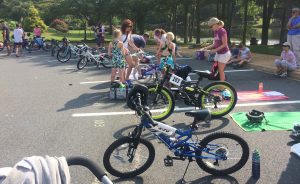 In past years, all the men held hands and started the swim together, and then the women did the same thing. This year, the entire field started en masse after the life guards moved a flock of paddling white geese out of the triangular course! The clean, smooth lake was a joy to swim in, and the top swimmers came out of the water and ran up to the first Transition zone. This race lets participants bring their own bike stands, racks and other modes of holding their bicycles. One young racer even brought a bike shop work stand to hold his ride! Landau made it out of the water and onto his bike determined not to make a wrong turn, as he did his first year in this race. The 2-loop bike course enabled him to see where he was in the field, and he managed to work his way up into the top 10 by the time he entered the 2nd transition. A poor T-2 and getting passed by a runner in the first 400 yards, who later turned out to be part of a relay team, pushed Landau to work hard on the run. In order to keep from undoing the healing that had taken place over the week, he ran without getting up on his toes or going "all out." The fast Herndon lawyer managed to get to 5th place, with a run that averaged under 7 minutes per mile, without any significant pain or problem. He then got back in the lake for his "running" cool down so as to reduce his post-exercise soreness. Plus, he was able to see his wife finish the race while he was doing his "hydrotherapy!"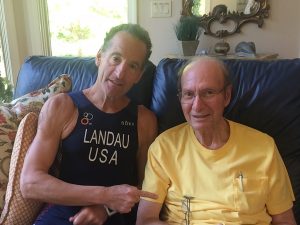 Melissa Landau finished among the top 10 women, swimming in one of her favorite bodies of water in the Commonwealth. This race benefits the Wounded Warrior program and is a friendly, local community event. There are even races for kids 12-15 and also 6-11 years old, with shorter distances and a wide variety of bicycles (some with streamers and training wheels!), swimming styles and shoe-lace tying abilities. When the Landaus take part in this event, they stay with Bernie and Rae Cohen. When Doug first moved to Virginia in 1982, he lived with the Cohens in their Alexandria Home. Bernie was a long-time Delegate to the Virginia Legislature, an author of a seminal book on Environmental Law, and one of the lawyers who took the Loving vs. Virginia case all the way to the Supreme Court of the United States! In fact, there are now 3 movies about this historic case that ruled miscegenation unconstitutional. Before Cohen courageously took up Mildred and Richard Loving's now famous case, marriage between different races and religions was against the law. Cohen's landmark case is now being used as precedent for allowing same-sex marriages. So the Landaus were able to visit with dear family friends as well as race in a low-pressure event for a wonderful cause.