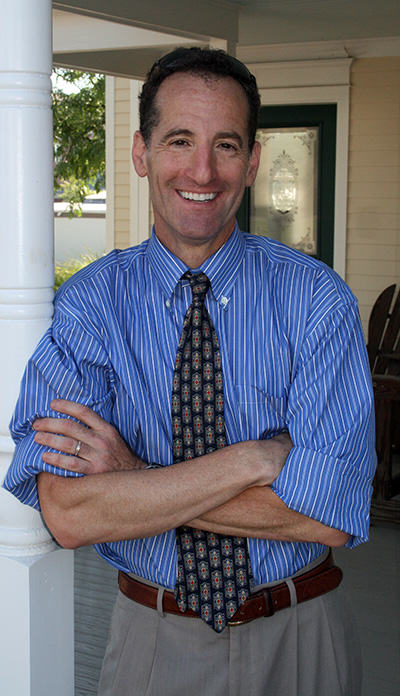 Doug's email: doug@landaulawshop.com
Doug has practiced as a civil trial lawyer since 1985. He founded his own firm in 1989, originally in Old Town Alexandria, in the Courthouse Plaza on King Street. Abrams Landau, Ltd. is now based in the historic district of Herndon, Virginia. The Abrams Landau team concentrates its practice in the areas of: Personal Injury; state Workers Compensation; and, Federal Social Security Disability Income. The goal of Abrams Landau is to help injured and disabled people and their families.
Doug's father Mr. Norman J. Landau and his grandfather Mr. William L. Abrams were instrumental and inspirational in the establishment of Abrams Landau, Ltd. It is to the memory of these great men that Doug attributes his commitment to serving his clients with the highest levels of professionalism, efficiency and confidentiality.
In addition to his dedication to the practice of law, Doug competes all over the country in running races, biathlons and triathlons. He has competed abroad as well as in the U.S. Sprint and Olympic Distance National Championships. His proven success in court as well as athletics is testimony to his relentless pursuit of excellence.
Bar admissions
Federal and State Courts of:
Virginia
Florida
Connecticut
New Jersey
District of Columbia
Federal Courts, covering the East Coast from Florida to Connecticut, including 3rd, 4th, 10th and D.C. Courts of Appeal
U.S. Supreme Court
Educational background
University of Miami School of Law, J.D., cum laude, 1985
Sargent College of Allied Health Sciences, Graduate studies, Applied Anatomy & Physiology 1981-82
Boston University, College of Liberal Arts, B.A., 1981
Columbia University, New York City, NY, summer sessions, 1978, 1979, 1980
The Hotchkiss School, Lakeville, CT, 1978
Employment history
Abrams Landau, Ltd., Principal, Historic District of Herndon, VA 2000 – present
Allred, Bacon, Halfhill, Landau & Young, Partner, Fairfax, VA, 1996-2000
Abrams Landau, Ltd., Principal, Courthouse Plaza, Old Town Alexandria, VA, 1991-1996
Connerton, Ray & Simon, Associate, Washington, D.C., 1990-1991
Ashcraft & Gerel, Associate, Alexandria, VA, 1987-1990
Hall, Surovell, Jackson & Colten, Associate, Fairfax, VA, 1985-1987
Pre-JD Employment
Specially Admitted to the Bar as an Intern with the Florida State Attorney's Office, prosecuting criminal cases in Miami, Cutler Ridge, Coral Gables, Miami Beach, Homestead, 1984-1985
Res Ipsa Loquitur, University of Miami School of Law Newspaper, Editor in Chief, 1984-1985
Costello & Shea, New York City, N.Y., summer, 1984
Robin Thompson & Partners, Solicitors, London, England, summer, 1983
Rash & Katzen, Miami, FL, 1982-1983
Trial Lawyers for Public Justice, Washington, D.C., 1982
The Association of Trial Lawyers of America (ATLA), Product Liability Exchange, 1981-1982
Law Clerk for: Aaron Levine, Washington, D. C., 1981
Stanley Kaplan Test Preparation Instructor (GRE, GMAT, SAT), DC, VA & MD, 1982-1983
The Dwight Englewood School, Instructor in Physical Education, Englewoood, N.J., 1979
Tenafly Racquet Club, summer clinics and Tennis Instructor, Tenafly N.J., 1977 & 1978
Columbia Presbyterian Neurological Institute, Laboratory Assistant, NYC, N.Y., 1973-1977
Legal Affiliations
Association of Trial Lawyers of America
· Member since 1981, Advocate status 1993, Fellow 1999, National College of Advocacy, Social Security Section vice chair and newsletter editor
Virginia Trial Lawyers Association
· Member, Workers' Compensation and Social Security Sections
Workplace Injury Litigation Group
· Member
Trial Lawyers for Public Justice – national public interest law firm
· Member Washington D. C. office's first Law Clerk, 1982
National Organization of Social Security Claimant's Representatives
· Member and case referral panel attorney
Supreme Court of Virginia
· Circuit Court Judge training, 2002- present
ATLA Student Trial Advocacy Competition
· Judge
Legal Activities
Virginia Trial Lawyers Association (VTLA) Annual Tort Law Seminar Committee, May 2005
VTLA Annual Convention Committee and Sponsor, Hot Springs, WV, 2000-present
Virginia State Bar, "Jury Selection," Young Lawyers Conference Professional Development Seminar, at the University of Virginia Darden School of Business, 2003
Northern Virginia Attorneys Herndon luncheons, presented and sponsored (with Injured Workers Pharmacy) by Abrams Landau, Ltd., 2002
VTLA Fall Fiesta, Social Security Committee, Richmond, September, 2001
VTLA Fall Fiesta, Moderator, Social Security Section Experts' Panel, 2000
Other Activities