CLIENTS' SUCCESS STORIES
Following are two examples of clients who have successfully completed high school, technical/computer training, or college while "out on comp." At Abrams Landau, we take a proactive approach, anticipating an eventual return to gainful employment and providing information so that clients from all over the United States can achieve success like the two individuals described below.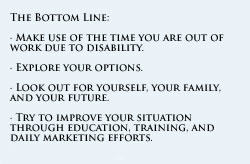 1. Injured UPS Worker Receives Rehabilitative Services and Computer Training Tuition Assistance for a New Start
A recent client sustained injuries to his neck and back, and could not return to the physically demanding work he performed for United Parcel Service. He found a part-time, light-duty job at Target in the electronics department, but the insurance company thought he was "under marketing" and threatened to take immediate steps to reduce his temporary partial disability payments rate. The UPS driver did not capitulate, so the carrier hired a private "disability management" agent, who tried to place the client into a light-duty commission position in grave yard plot sales. Talk about a dead end job.
At Abrams Landau, we were able to get this client registered with the Virginia Department of Rehabilitative Services (DRS), and he was able to complete the Information Technology Certification Training program. How could he afford this schooling? He was able to get this advanced computer training while still receiving his partial wage-loss benefits (because he was able to keep his 20-25 hour/week job at Target).
Furthermore, we were able to arrange for DRS to pay $4,897.50 towards his tuition, with Liberty Mutual Insurance paying an equal $4,897.50. At the conclusion of his training, he was able to secure a job in his new field (with benefits, the potential for advances, and little risk of re-injury), and we were able to get his claim settled for about three years of total wage-loss benefits with medical care available for four additional years.
We try to achieve a "win-win" situation whenever possible. Motivated clients, like this gentleman, are able to improve their situation, even in the face of permanent injury and disability, and get on with their lives.
2. HIGHER BENEFITS PLUS COLLEGE EDUCATION FOR SEVERELY INJURED TEEN
Another client of ours, who fell from third-story scaffolding and suffered brain and facial injuries, never finished high school before he went to work at age 18. He was able to register with the North Carolina Department of Education and complete the requirements for his G.E.D.
He also successfully found employment that enabled him to qualify for child care. It is our understanding that this client was subsequently accepted to the local community college. Abandoned by his prior lawyer, Abrams Landau was able to get him permanency, medical, and other benefits as the result of a hearing in Alexandria. Mr. Landau has visited with the claimant and his mother in West Virginia and looks forward to this young man and his growing family's continued success.
At Abrams Landau, we encourage our clients to register with the state, local, and federal agencies that can assist with job placement, training, and education–such as the Virginia Department of Rehabilitative Services (DRS)–their local adult education centers, and their state employment commissions, many of which have offices all over the state.
If you have questions about reaching your potential despite your disability status, we want to help. There are state, local and federal programs available to help persons with disabilities. We encourage and assist our clients in finding out what is available (that their tax dollars or wages may have paid for) to help them and their families.
For example, in many Social Security cases, we are able to get benefits for our clients' minor children and spouses. With no fee for that service!
In one notable Workers Compensation claim, we won over $12,000 in payments to our client's mother for her care after a catastrophic injury to her son meant that she could not work outside of the house while he was recuperating. Please contact us to discuss your case.