Best in the World Compete in Canada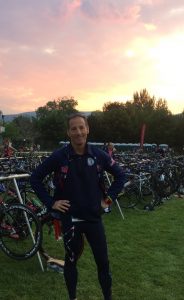 The World Championship races in Canada brought some of the best athletes on the planet to British Columbia for 10 days. The racing included: Sprint Duathlon, Standard Distance Duathlon, Aquathlon, Cross (Off Road) Triathlon and Long Course Triathlon. As a member of TeamUSA in the Sprint Duathlon event, Doug Landau flew from Los Angeles to Vancouver, and then to the race venue in Penticton, Canada, which is located on the tip of the Sonoran Desert. The Herndon lawyer was surprised to find a warm, arid climate, surrounded by mountains and lakes. Several thousand athletes from all over the world were assembling in this Canadian town, located between the Calgary and Vancouver Olympic sites. Staying at a "B&B" walking distance from the starting line, Landau and other American athletes enjoyed the large beach, friendly citizens and excellent fare.
After cycling the run and bike courses Thursday and Friday, and visiting with the TeamUSA doctors to get taped up, Landau felt ready to compete on Saturday morning just after sunrise. He had both lower legs taped up in order to give additional support and protect against further injury. Having done no run training the last several weeks, and no speed work or Maccas in months, in order to try to heal his injuries, Landau instead tapered with reduced training, and hoped that his "training momentum" would enable him to finish the race without stopping, cramping or other physiological problems. With reduced exercise, and caloric expenditure, Landau also had to be careful about his diet and fluid intake.  Athletes were required to check their bikes into the transition area the day before the race. International Triathlon Union ("ITU") officials inspected his helmet, bicycle, uniform and numbers before allowing the Herndon safety lawyer to rack his bike next to competitors from: Brazil, England, Chile, New Zealand, Canada, Japan, Australia and Spain.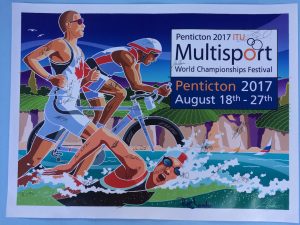 On race morning, Landau was up at 4 AM and at the race venue by 5:15. He let the air out of his tires so that they would not explode as they hung on the transition rack in the sun the day before. He borrowed a pump from a Japanese competitor, attached his cycling shoes to his rented, draft-legal racing bike and put his helmet on the handlebars for a quick transition.   Below his bike he placed his 2nd pair of running shoes, but international rules forbade hanging a changing mat, towels, baskets, or other materials.  Hoping that his Leukotape and KT tape would hold, Landau dropped off his "morning bag," did a jogging warmup and stretched as the heats were called to the starting line.
When the starting gun went off for his heat, Landau found himself in the back of the pack. Working hard, he ran the 2-lap 5km hard, but his time was just over a 7 minutes per mile pace. The bike course had an almost immediate 400 foot climb. Landau had a good, but not great, transition, and ascended the hills to the scenic wineries around Penticton. The first half of the cycling course was essentially uphill. The second half was downhill, with Landau reaching speeds in excess of 41 mph! The second lap saw racers walking their bikes up the hill, falling over and also crashing on the downhill in this draft legal format race. Because it was draft legal, there were no "aero" handlebars allowed, and several packs of younger racers from earlier heats zipped past Landau on the top of the course.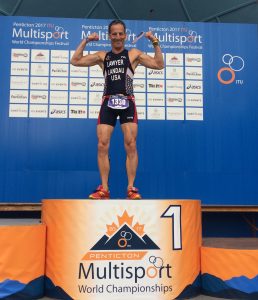 Bikers came screaming down the mountain into a roundabout and then into the second transition.  Screeching brakes were heard and Landau had a good transition into his running shoes. For the last lap he dueled another American Duathlete and did not have any leg cramps or stop, unlike both Duathlon National Championship races. However, his time was not good enough to make the podium, and he finished in the middle of his division. After catching his breath and a cool down jog, Landau hit the showers and enjoyed pizza and a few pints at "The Bad Tattoo" pub in town before flying on to Vancouver to inspect a Canadian law office he had been advising before returning to the office Monday.
Landau added, "Participation in a World Championship is a tremendous opportunity for any athlete, and I was proud to wear the red, white and blue as a member of TeamUSA. Now it's back to the Law Shop to help those injured and disabled clients win their cases."