In Between Championship Races, What Does Lawyer Landau Do?
He goes to "Muscle Beach" in Venice, California with his son. Before deploying to the Pacific, Lt. Zach Landau and his dad decided to go weight lifting outside in the sun. Zach will be joining a division of Marines this week in KaneOhe, and will be a Captain. The "Landau Boys" decided to get out during Zach's last day on the mainland and have some adventures. After lifting weights (for the upper body, as Doug was sore from the waist down after racing on Sunday), having their photos taken by tourists and sightseeing, this dynamic duo went to rent a sea kayak.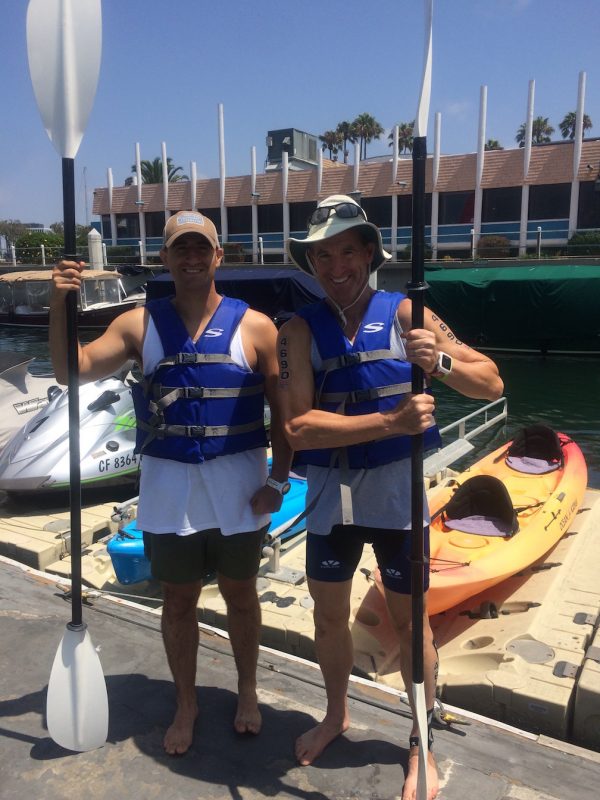 They paddled several miles and saw the California State Fish. The bright orange Garibaldi fish swims near the rocks where the sea lions sun themselves. The Landaus espied a ball stuck in the rocks, dislodged it and played with these agile sea mammals. After paddling in the bay, they lunched on the water and then headed back to the West Hills compound where 4 generations of Mrs. Landau's family live together, for a home-cooked meal and "send off party."
Lawyer Landau will not be running this week, in order to heal between races. He will do some light exercise, probably swimming, cycling and lots of stretching in order to have a good performance at this weekend's World Championships.