"Humble pie" for Landau at National Championships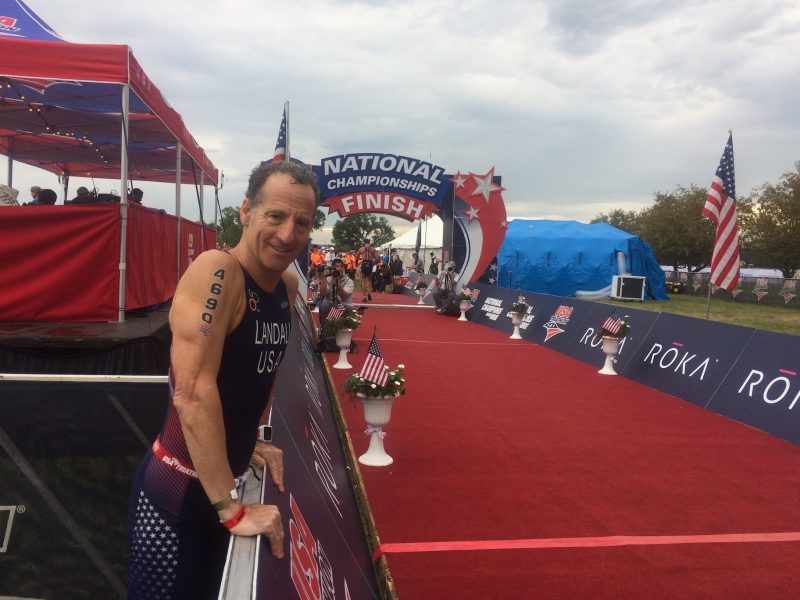 After podium finishes at his last several races in Virginia, Doug Landau felt confident, despite injury, going into the 2017 Age Group National Championships. Getting to the Omaha Nebraska venue several days early, Landau and training partners were able to scout out the course, make their final preparations, in order to give full value on race day. Last year the conditions were very hot and dry, which played to Landau's strengths. The Olympic distance race was on Saturday, with sunny warm weather. Landau cheered on Virginia Triathlon Series friends Gail Waldman, Stephanie Van Bebber & David Stubbs, who all qualified for the 2018 Triathlon world championships.
Unfortunately, the weather took a dark turn, and Landau's roommate, perennial 60+ powerhouse Tom Stroup, warned that the swim might be wetsuit legal, and that rain and cold weather was predicted for their sprint race. Stroup and Landau went to the venue at 5 AM race morning equipped with wetsuits, skin suits, large plastic bags, seat covers (for their bicycles that had been checked in the day before), raingear and uncertainty as to how the day would go. Instead of tinted goggles for the sunrise glare and safe dry roads, Landau had to contend with a dark morning, and slippery streets.
Race announcer Tim Yount advised these top competitors to under inflate their tires, which Landau did, and to back off on speed around the turns. The announcement was made that the race would not be wetsuit legal, and so Stroup and Landau went with new Roka skinsuits. However, Landau had a pedestrian swim, and ran into T-1 at the back of the pack. He felt as though he had given a good effort in the water and swum straight lines, but there were some top class swimmers and he did not have his best transition. Once on the bike, he had to pass a number of people. Ringing his signature bell, and calling "on your left" or "passing" Landau was confronted with a spray of water into his face, and sometimes narrow roads (due to the broken up concrete surface conditions). Upon getting into the second transition, the cyclist in front of Landau was in a crash with another biker, and Landau had to avoid them to get his wet running shoes on and take off down the flat running course. Landau has been battling lower leg injury since competing in several longer Olympic Distance events this season, so his right leg immediately seized, and so he was unable to "put the pedal down" as he had hoped. However, on the upside, he did not have to stop, despite the spasm in the leg, and was able to keep a seven minute per mile pace in order to pass several more competitors. After finishing the race, Landau had a protein shake and then went to the ice bath tent, in order to reduce post race inflammation so as to be able to return to hard training.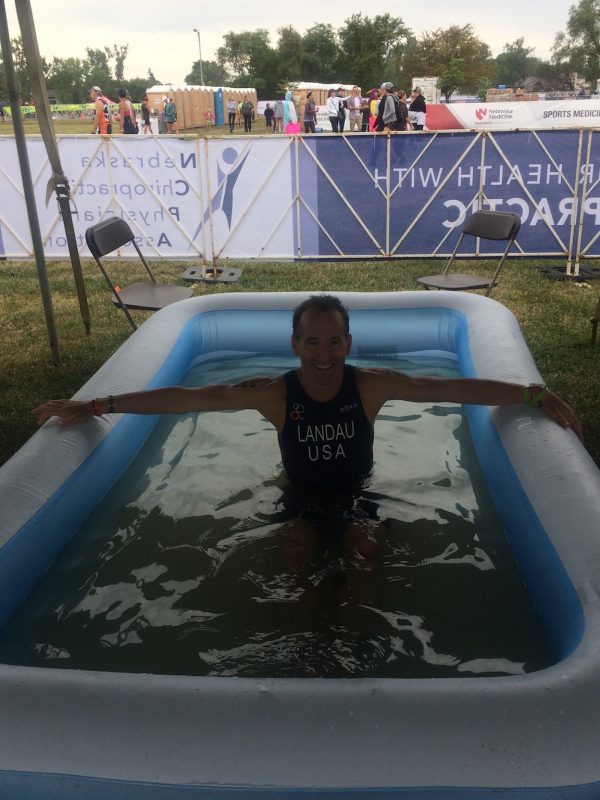 He then helped himself to hot food in the VIP tent, bypassing the Normatech recovery systems, and sat in the rental car shivering for 30 minutes with all heaters going full blast! Even though he had checked out of hotel, he returned for a hot bath, knowing Stroup would still be in the room and he could still gain entry. Landau then returned to the venue to collect his bike, turn it into RaceDay Transport to bring back to Virginia, and get his pedals for next weeks race.
Landau knew from preliminary results available immediately after the race (due to the computer chip on his ankle) that he did not finish high enough to qualify for next year's triathlon World Championships. However, when he returned to get his bike out of the transition area, he found out that he had been given a two-minute penalty for drafting. This was Landau's very first penalty of any kind in any National Championship race. Landau's friends all laughed because in group rides in Reston, Herndon, Ashburn and elsewhere, he is infamous for being UNable to draft, even when trying to do so. Landau feels uncomfortable getting close to other cyclists due to safety concerns, unpredictability of others' actions, and his racing over the last 35 years in NON-draft legal races. In fact, Landau has participated in less than half a dozen draft legal races in his entire life! As he was heading to the airport to go to Los Angeles to participate in his son's "sending off deployment" party that night, he did not challenge the officials call, but chalked it up as a new experience.
Lawyer Landau flies to Canada on Wednesday night in order to join TeamUSA and participate in the Sprint Duathlon World championships. Once again, as has been the case for the last several weeks, Landau will not do any dry land running during the week, but concentrate on healing the injured right leg through hydrotherapy, Graston technique, and massage. For the race, the team USA doctors have already been in communication with the Herndon Virginia multisport athlete, and they have agreed that taping both lower legs at 90° will enable Landau to race as best as he can, and prevent further injury.  
Bottom line, competing with the best, true athletes in the country in friendly Omaha, Nebraska was an incredible experience. Landau looks forward to representing the United States of America next weekend in international competition, and hopes to have a better result. Stay tuned!