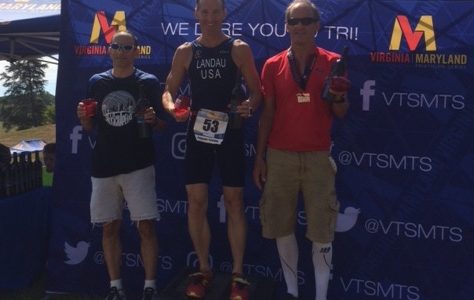 Culpeper Sprint Triathlon sees Lawyer Landau & Friends atop the Podium a Week Before the National Championships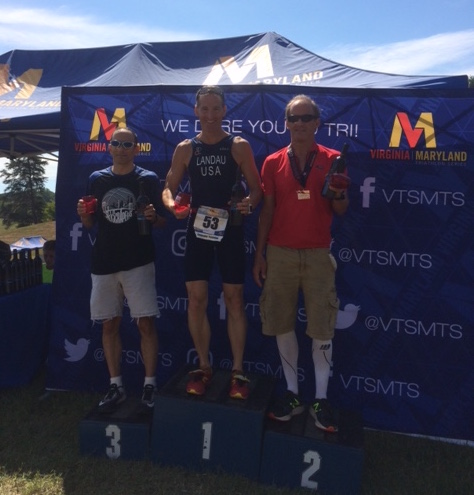 In his final test of fitness before the 2017 USA Triathlon National Championships, Doug Landau competed in the VTS/MTS Series race at Mountain Run Lake in Culpeper Virginia. At the Culpeper Sprint Triathlon a warm half mile swim was followed by a hilly, challenging 16 mile bike course and an up-and-down 5 km. run. While the Herndon Virginia injury lawyer had won his age group in this same event last year, his injuries required that he be taped up & not run to full capacity in order to avoid further damage.
Landau & Dr. Kur Sohn were especially concerned with the running uphill and overstretching his healing soleus. So Leuko and KT taping systems were used to reduce the range of motion about the ankles, but still allow for the plantar and dorsiflexion needed for pointing the toes during swimming. The LeukoTape held everything in place, even there was no wetsuit to cover it, and Landau had a good swim, strong bike and quick transitions. His "flat-footed" running, however, was painful to watch according to CBC Coach Stephanie Colburn ad Team FeXY member Stephanie VanBebber, who were filming athletes coming out of T-2 on to the hilly run course. Normally Landau runs on his tippy toes, but he has had to run without lifting his heel, without his custom-made race flats, due to injury. Landau has to been doing race preparation run training, and his "running" is almost entirely in the deep water of the Franklin Farms pool. He is trying to keep his aerobic fitness by cycling and swimming in order to be competitive at the National Championships.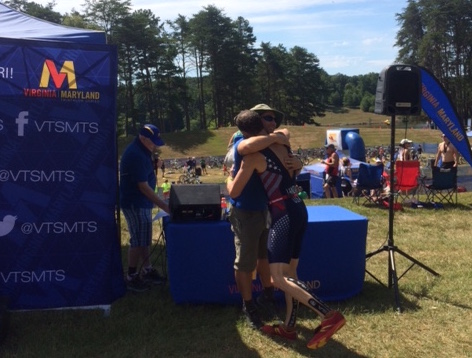 At Culpeper, Landau managed to win his category by a minute, despite his run form, and he collected another winner's bottle of wine from the generous folks at Mountain Run Winery. His good friends Kim Shoop, Rob Colburn, Gail Waldman, Julie Rome, Beth Baumgarten also won wine. Landau and the Colburns then rendezvous at the wonderful "Moo Thru" ice cream stand about 20 minutes East on Route 29, where many triathletes congregated en route home! Landau will again "tape up & gut it out" at Nationals, though he is more optimistic about the World Championships a week later, as the TeamUSA doctor will "fuse" both ankles by taping them completely, as lawyer Landau will not be swimming, only running & biking, so less of a range of motion will be needed for the flat, Penticton Canada course. Stay tuned…