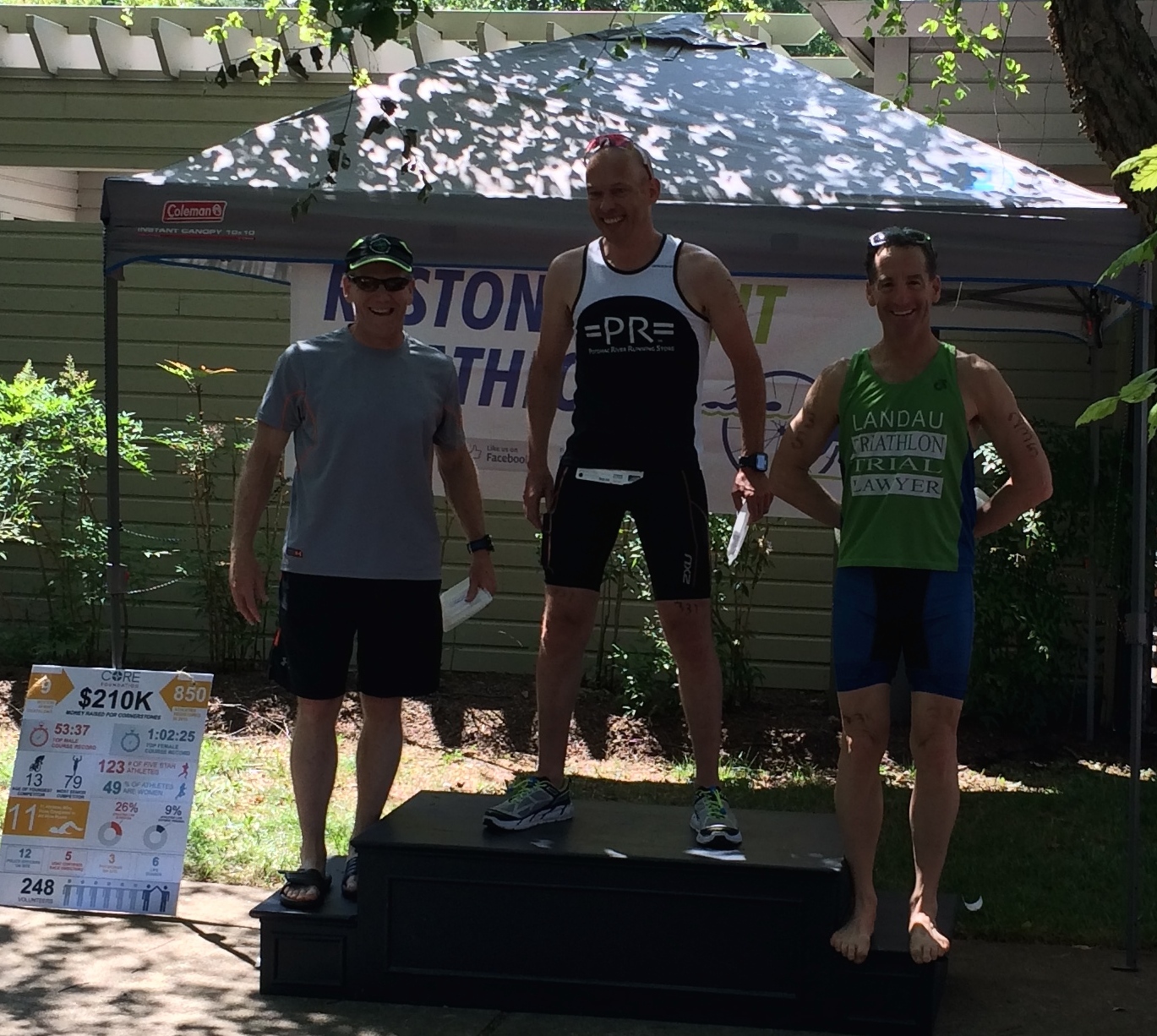 Hot Times at Reston Sprint Triathlon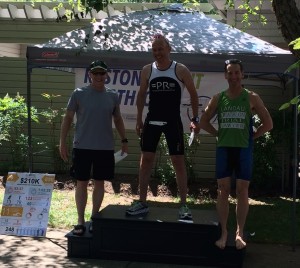 Hot temperatures warmed up the Lake Newport Pool for triathletes to test their speed for this summer's multisport season.  In the past, the frigid water has seen athletes wear wetsuits for the 400 meter pool swim !  This year it was so hot that there was a misting tent after the finish line and the Awards ceremony was held in the shade.
While registration for the Reston Sprint Triathlon was capped at 830, there were still more athletes than the pool could seem to hold.  The experienced race directors had athletes get into the pool at 5 second intervals. Lake Newport Pool was churning for hours, and the "serpentine" swim course and colorful caps made for fun viewing. Spectators were further able to take in the action as the bike course was identical three laps. Then, from nearly the same vantage point, friends and family could see the triathletes finish on the uphill straightaway.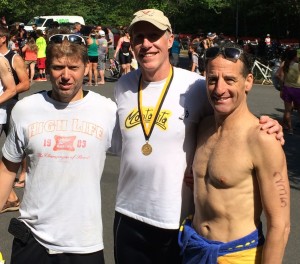 Several Reston area multisport teams brought out their athletes in order to get local bragging rights. These included the RATS (Reston Area TriathleteS), FeXY & Endorphin Fitness.  Though not a team, bikers who train with Hefler Performance Coaching at the Green Lizard Bike Shop in Herndon, Virginia scored podium positions and top bicycle splits. Despite using a bicycle borrowed from his son and an unforeseen stop in T-1, Doug Landau was able to finish in 13th place this year, continuing his record of finishing in the top 20 in this highly competitive race. In addition to 13th overall, Landau managed to win the 3rd overall masters prize, to once again be on the podium with neighbors and friends.
What makes for a terrific race is the volunteers and race staff. Committed to safety, one Transition Assistant stopped lawyer Landau before he could exit on the bike.  The problem ?  A missing end cap. Luckily, this volunteer had extras, so once the road bike was made safe, the Herndon injury lawyer was on his way to averaging 23 mph on the hilly course.  Uncapped bike bar ends can cause permanent injuries from lacerations and infection.  Landau is grateful for the Reston Sprint Triathlon staffer's quick action. Landau would rather lose a little time than be injured, hurt another participant or be disqualified.  While a minute faster than last year's finish, Landau was disappointed with is run split, which was well above the 7-minute per mile pace he needs to succeed at next week's National Sprint DUathlon Championships.