Bicycle Police Assist Putting "Lids on the Kids"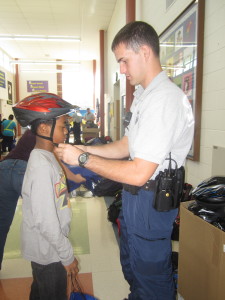 Mayor Merkel and local bicycle police visited two Herndon elementary schools today in order to protect sixth graders from bike crash injuries. In its second year, Herndon lawyer Doug Landau's "put lids on the kids" campaign has a goal of 365 free helmets, or "one a day." The Town of Herndon bike police answered questions and helped fit every student with a new Bell helmet.  The Herndon Police showed the children how the helmet must sit on the head in order to give maximum protection.  They also helped make sure that the helmets were not too loose or too tight.  Each child was also given a drawstring bag and safety information to take home and share with their families.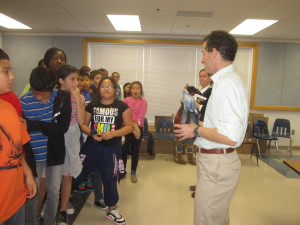 Lawyer Landau, who qualified for this year's Triathlon World Championship in New Zealand, showed pictures from races, cases and places where his clients have been injured in bike crashes and car accidents involving cyclists. James Bradshaw of the Reston Selective Enforcement Team even helped transport extra helmets and bags from Hutchison Elementary School back to the Landau Law Shop on the corner of Station Street and Center Street, so that any students' helmets damaged in an accident could be replaced by the Herndon law firm ABRAMS LANDAU, Ltd., so that no child would be left without head protection on the W&OD Trail, the bike paths or the Fairfax County roadways. If you know of a child  who has been in a bicycle crash, and their safety helmet has been damaged, please e-mail or call us at ABRAMS LANDAU, Ltd. (703-796-9555) so that we can outfit them with a new one and reduce the risk of future injury.