Double Header for Herndon Free Bike Helmets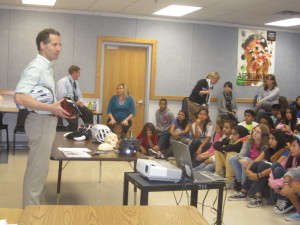 "Teaching at two Herndon elementary schools in one day is more exhausting than any triathlon I have raced or case that I have tried," noted bicycle safety lawyer Doug Landau.  Appearing at Herndon Elementary School in the morning and Hutchison Elementary School in the afternoon, Dulles Virginia area lawyer Landau put his money where his mouth is by putting new Bell helmets on over one hundred sixth graders at each school.  In pursuit of his goal of "putting lids on the kids," the Herndon law firm ABRAMS LANDAU, Ltd., is nearing its goal of 365 helmets this year.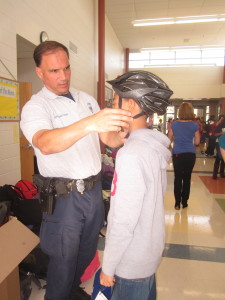 Melissa Landau notes that their goal is "a helmet a day.  We can prevent needless injury and disability in the Town of Herndon, protect the children, and educate families.  Nothing makes me crazier than seeing adults on the W&OD Trail without helmets, on their cell phones, listening to earbuds and not paying attention to what is going on around them.  This endangers all of us." In addition to free bike helmets, athlete lawyer Landau also gave each student a tie bag to carry their new head gear home, along with important safety information for their families. Landau hopes that educating the students about brain injury and giving them free helmets will reduce the number of serious head traumas seen by our local hospitals and also lessen the likelihood of permanent impairment and death from a fun, healthy and inexpensive recreational activity. If you know of a qualifying school that would benefit from this educational safety program, please e-mail or call us at ABRAMS LANDAU, Ltd. (703-796-9555) so that we can outfit sixth graders with a new helmet and prevent harms and losses on the W&OD bike trail, Herndon's jogging paths and Fairfax County roads.