"Helmet a Day" Campaign Reaches Loudoun County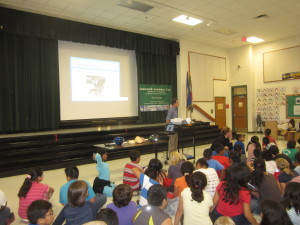 After last year's success in educating students about brain injury and giving out free bicycle helmets, a goal of 365 helmets was set for 2012.  The campaign was to be "a helmet a day" to protect school children from preventable head injury.  Setting goals and achieving them is a common occurrence at the Herndon law firm ABRAMS LANDAU. 
All cyclists, rollerbladers, long boarders and skate boarders should wear head protection.  To that end, Herndon sports injury lawyer Doug Landau visited with Rolling Ridge Elementary School 5th graders in Sterling Virginia. With the help of Loudoun County Police officers, every child was fitted with their own brand new Bell bike helmet. Lawyer Landau also gave educational presentations and distributed free bicycle helmet to Herndon, Fairfax and Reston 6th graders this month so that the students and their families could learn how to properly wear their bike helmets.  The ABRAMS LANDAU GIVING PAGE on FaceBook has more pictures from these presentations.