Centreville Virginia Conference on Brain Injury in Children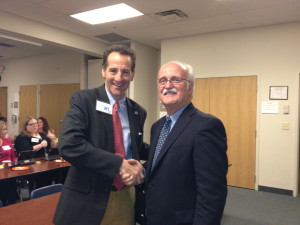 Children with "Attention Deficit Disorder," Learning Disabilities ("LD") and "Attention Deficit Hyperactivity Disorder"
appear to recover more slowly from concussions.  This delay in recovery after mild traumatic brain injury was one of the topics covered in the Brain Injury Services' Brain Injury in Children and Adolescents 2012 conference.  As an invited guest, trial lawyer Doug Landau of the Herndon law firm ABRAMS LANDAU, Ltd, was able to meet and compare notes with with brain trauma researchers, physical therapists, child neurologists, sports concussion investigators, school counsellors, BIS staff, occupational therapists, pediatric neuropsychologists and victims.  One of the keynote speakers that Landau was keen to meet was Dr. Jeffrey Barth of the Brain and Sports Concussion Institute at the University of Virginia School of Medicine.  Lawyer Landau has previously written about Dr. Barth's scientific research.
Dr. Barth shared the results of the 1981 University of Virginia TBI Study that found that 3 months post injury, 34% of mild head injured patients who were previously employed had not returned to work.  Landau also learned that the adult brain does not massively swell like children and adolescent brains do, and that intracranial pressure may be the key to "second impact syndrome."  More research is needed to understand brain trauma and injury on a cellular and sub-cellular level, and Landau hopes that funding for objective and peer-reviewed scientific study will be made available in the near future.  To learn more about the BISC Institute, click here.