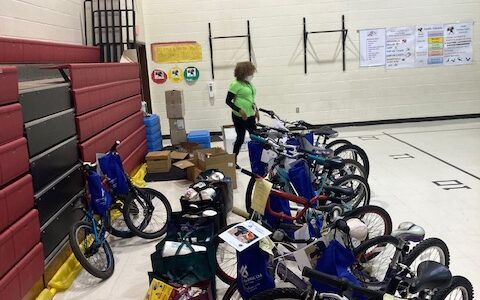 Lids on Kids: Fun, fitness and food at Potowmack Elementary School
Since the start of the Lids on Kids brain injury prevention and free helmet distribution program nearly 10 years ago, Abrams Landau and its allies have met countless kids and distributed thousands of helmets to those who otherwise might not be able to afford it. Potowmack Elementary School was the latest in a string of schools to be paid a visit by the Landau team. Since September, Abrams Landau, Ltd. has provided around 160 helmets to kids at schools and businesses across the area, with several more schools to come soon. Potowmack is located only about 15 minutes from the Landau law shop, and serves children in the Countryside and Potomac Falls areas of Sterling, VA.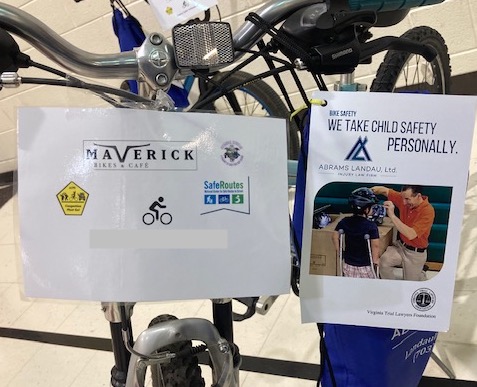 Teaming up with the extraordinary bicycle mechanics from Maverick Bikes and Café, last week Doug Landau brought a brand new shipment of Bell helmets to be fit on the heads of children selected by the school counselor. Families came after work to pick up a newly refurbished bicycle, as well as a set of lights, bike locks, t-shirts, drawstring bags, safety information, bilingual coloring books, crayons, and other safety information. On top of all this, a local church generously donated bags of groceries for these families, in addition to food gift cards. In handing off the bikes and having each kid ride around the school gym, the teams got a sense of their comfort level on a bike. Lawyer Landau, the Potowmack principal, and other adults with Loudoun's Safe Routes to Schools program really put them through their paces!
Some of these bicycles were equipped with disc breaks, others with shock absorbers in the front and back, and most with gears and other components that would not be seen on a basic entry-level bicycle. Landau was stunned to learn that several children, just as he had seen in other schools, were unfamiliar with their bicycles. One child was even going to return to Maverick Bikes, on Catoctin Circle in Leesburg, to see about putting training wheels on her bicycle so that she could learn.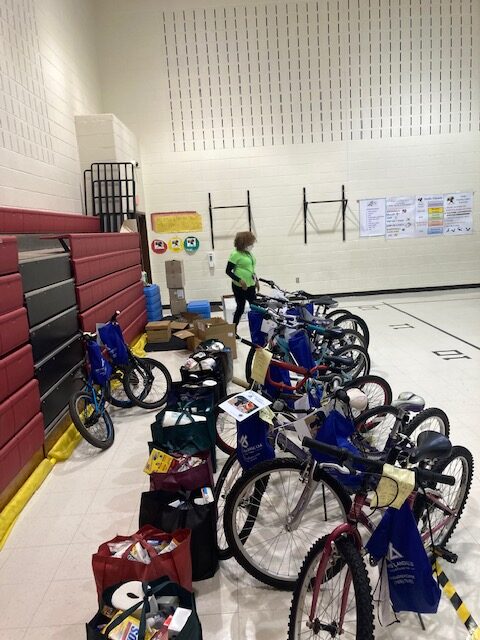 The team at Maverick Bikes, who refurbish and donate the bikes for this program, is always kind enough to offer these kids free lessons at their shop during the week! Landau and the rest of the team also hope that parents and siblings will help these children, who are in third, fourth, and fifth grade, to learn how to ride so they too can enjoy the activity.
Landau noted that growing up he did not have a car, so he used a bicycle to visit friends, shop, and explore as a child. Later he had a paper route delivering newspapers for the local county paper, and also used a bicycle to get to work, classes, and visit friends. Today he remains an avid biker and triathlete. Aside from providing kids with bikes and equipment they wouldn't otherwise have access to, part of the beauty of these programs is in the chance to impart this same appreciation of and love for biking.
Because of the Covid pandemic, giving helmets and bikes to large groups of an entire fifth or sixth grade in an elementary school gym is no longer being done. Rather, after the initial pandemic, Lids on Kids consisted of one-at-a-time helmet, bicycle, and equipment drive-bys at local schools. The shortcomings of this procedure are obvious. Unlike a large group in a school gym, the advantage of group instruction is lost, and children don't get the chance to hear other kids' questions and learn from them too. In addition, the drive-bys did not permit the teachers, mechanics, lawyer Landau, or administrators to see if the child's bike actually fit, where they could ride it safely, whether they understood how the brakes and gears worked, etc. And Landau, the police, and other volunteers were unable to fit each child with their helmet.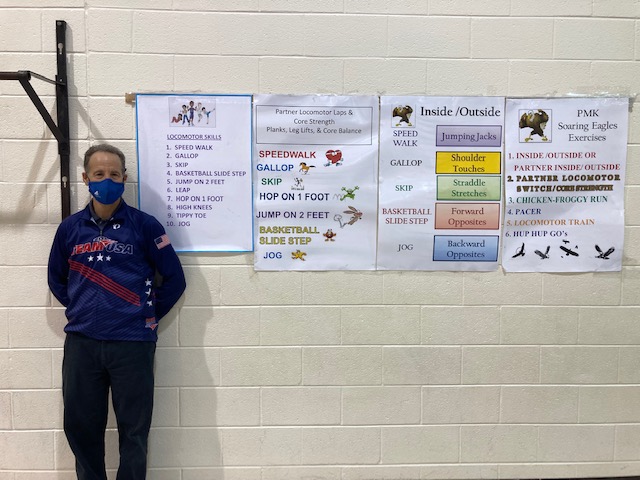 For the last several months Landau and his team have been able to fit anywhere from a dozen to 75 children at each Lids on Kids event, in school gymnasiums or blacktops. Now they can confirm that the helmet fits, the children can ride a bike or at least understand how the brakes, kickstand, and gears work, and make modifications so that the seats are close to the right height for each kid. While Landau hopes to go back to presenting to large groups soon, with brain models, slideshow and other hands-on "show & tell," the present safety protocols will likely mean smaller groups in large spaces, with masks, for the foreseeable future.
Landau was impressed by the efficiency put into last week's program by the Potowmack Elementary School administration and staff, and hopes to work public school events for many years to come.
If you know of a school that may qualify for the Lids on Kids program, or is part of the Safe Routes to Schools program in Loudoun County or a similar bike safety and student exercise program in Fairfax or Prince William County, please contact us at Abrams Landau, Ltd. via
email
or telephone, 703-796-9555.