Off-Road fun (& winning beanies) in South Carolina
Grass, dirt, gravel and a little bit of pavement on the undulating cross country course at the Hartness Half Marathon & 5km races was the order of the day for Melissa & Doug Landau, who were in South Carolina for a dear friend's wedding. Always on the lookout for a race when traveling, the Landaus decided upon this challenging event before a midday meeting with brilliant associate Lisa Beaman and the evening nuptials in Spartanburg.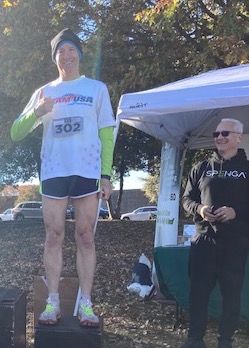 The race started through open fields with a glorious vista of the mountains, ran through the woods, where footing and visibility was challenging because of the bright sunshine and exposed roots covered by fallen leaves. The middle of the race showed off the Carolina fall foliage with a riot of autumnal colors. The finish was through a pecan orchard to the Set Up Inc finish line. In addition to the 3.1 & 13.1 mile distance races, there was also a 2-person Half Marathon event, where one runner would run the first half to the long distance competition, and another could then finish the job.
With wonderful sponsors, including physiotherapists who stretched runners out before and after the race, there was plenty of snack food, camaraderie, and fun to be had. Melissa Landau won her age group and got a warm beanie as a prize.
Doug Landau, finishing 14th overall, was the third master, and also winner of his category.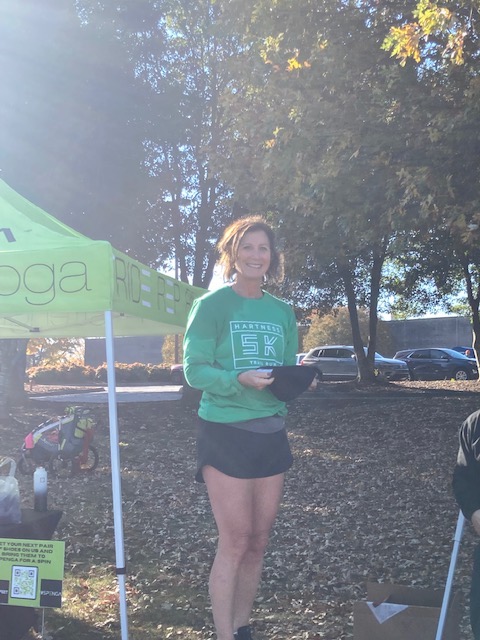 Melissa Landau ran another loop on the Hartness property's well-maintained paved roads, to get in the distance in her training for an upcoming Virginia 10K in December. She noted that her time for the SECOND 5K on pavement was faster than her race time! The course conditions were so challenging that the winner was clocked at only 7:20 a mile. Doug Landau did not even break 8:00/mile pace!
Nevertheless, this was a terrific event, with very well marked course turns and professional event staff. Results popped up on your mobile phone within moments of crossing the finish line. Because participants  traversed a variety of surfaces, most of which were much softer than asphalt, concrete, etc., soreness the next day would be reduced. With the triathlon season over, it's events like these that make autumnal running fun and let us know where our fitness is as we go into the winter "base building training" for 2022.