'Lids on Kids' Featured in Trial Magazine + More Helmet Donations!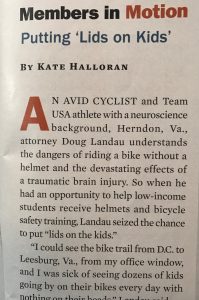 The July 2017 edition of Trial Magazine featured the Lids on Kids program!  The Lids on Kids program has been active for over eight years and works to spread awareness on brain injuries and aid in preventing brain trauma and injuries. This program, started by Herndon lawyer Doug Landau over eight years ago, involves visiting public elementary schools, presenting a presentation on brain injuries and safety measures, and donating helmets to over a hundred students. The helmets are made sure to fit each and every student and even come with stickers which will allow for free replacement helmets to be received if needed.
In addition to the Lids on Kids program, attorney Doug Landau recently gifted helmets to the Hotchkiss Cycling Society of Canaan, CT which benefitted the Pilgrim House Bike Mission. The Hotchkiss School was donating bicycles to its local communities and now they also have helmets to give to those in need of them!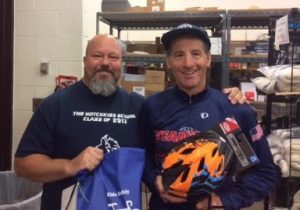 Whether through the Lids on Kids program or through donations to local communities, the ultimate goal of spreading awareness on brain injuries and aiding in preventing brain injuries can and should be advanced!
If you know of a school or local group that could benefit from our helmet giveaway program, please email us at education@landaulawshop.com, or call our office (703-796-9555).