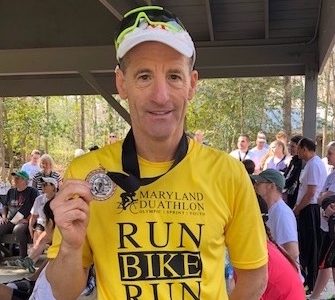 Spring Finally Arrives for a Walk (or Run) in the Woods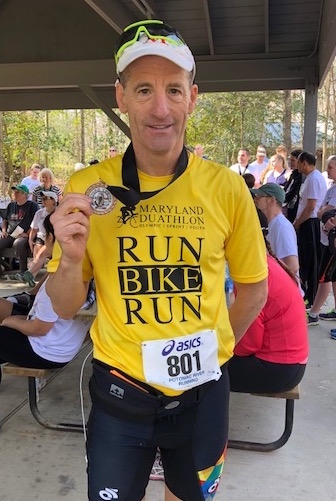 At Saturday's 15th Annual Reston Nature Run, attorney Doug Landau took the opportunity to convert the 5K race into a "brick" workout. This popular Northern Virginia annual event, held at the Walker Nature Center on Glade Road, is run exclusively on the well maintained paved and dirt trails of the Reston Association. Runners and walkers of all ages and sizes enjoyed the morning temperatures in the 70s. The 15th Annual Nature Center 5K Run/Walk benefits the popular Walker Nature Center. The Walker Nature Center is the home of environmental education in Reston, Virginia. Funds raised support facility enhancements, educational exhibits and programs. The mission of the Nature Center is to foster environmental stewardship in the community.
This rolling 5K course quickly caused the field to spread out, with Landau feeling only 70-80% recovered, uncharacteristically falling off the lead group. However, the Herndon injury lawyer had bigger fish to fry. He had intended to "train through the race." He had planned to do a "brick workout" with the 5K event as just one part of his regimen for the morning. So what is a "brick" workout? Landau often does brick workouts. "Bricks" can be a combination of two or more events in the same session. On Saturday, Landau combined the 5km run, with a 20km bike ride, and then a 3km run. These distances were the approximate length of the USAT DUathlon Sprint National Championship course last week in South Carolina.  These very challenging workouts help lawyer Landau prepare his legs and his lungs for the demands of running and cycling in quick succession. Many fine runners and bikers will "bonk" going from one event to the other. Landau has never "bonked" in a major competition, as he trains going from the bike immediately to running, and vice versa.
So how did lawyer Landau do in the 5K? Keeping his heart rate under control, he finished in 8th place overall in under seven and a half minutes per mile. Then, after only a three minute transition, he raced his bike around Lawyers Road, Glade and Soapstone, which are part of the Reston Triathlon race course. Hitting speeds of 30 mph, Landau made another quick transition this time from cycling to running again to cap off the workout.
Finishing his multisport training by 9:30, Landau collected his age group prize, and headed off to tomato plants for his garden, and then the Abrams Landau law office to get a jump on the mail. With temperatures predicted to hit the 80s, he started his garden this weekend.