Tri It Now 14.06 Makes Use of George Mason Manassas Campus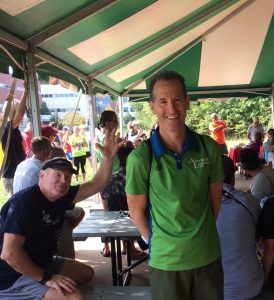 Many Northern Virginia residents do not even know about George Mason University's Prince William Campus. Conveniently located just off I-66, West of the Manassas Business Exit, it is quiet on weekends and a safe venue for triathlons, duathlons and running races. This GMU campus is home to the Freedom Aquatic & Fitness Center, which is one of the premier pools in the region. One aspect of racing here that Herndon lawyer Doug Landau especially likes is that you can shower, swim, lift, spin, or sit in the hot tub or sauna after an event!
The friendly folks at "Tri it Now" put on several races each year at this GMU campus. These events are perfect for people new to the sport, families that want to participate at the same venue and children just getting started in multi-sport competitions. Sunday's race was one tenth of the "Ironman distance." For Triathletes, it was a total of 14.06 miles in the pool and around the campus.
The 14.06 race for Duathletes like Doug Landau, started and ended in the Freedom Center parking lot, with a 2.6 mile run that was predominantly on the well maintained trails behind the pool and fitness complex. Then after a quick transition, Duathletes mingled with Triathletes, those doing the Aquathon, and Relay teams to complete 3 laps (11.2 miles) on low traffic roads, on a basically flat course where spectators could see their athletes several times. The biking course took cyclists to George Mason Circle all the way to the turnaround sign at the end near the Hylton Performing Arts Center on campus. Landau fell to 4th coming into the first transition, but emerged in 3rd heading out on the roads. He managed to get to 2nd by having the fastest bike split of any Duathlete, covering the course in under 30 minutes. But near the end of the 2nd run, he was re-passed to finish in 3rd place overall by 30 seconds. His prize? Great Harvest Bakery cookies!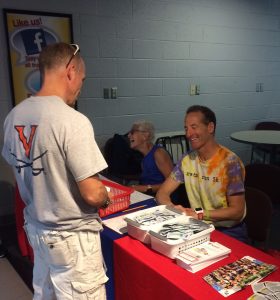 But what did lawyer Landau do the day BEFORE the race? After going to the "Landau Law Shop" in Herndon to get a jump on the weekend mail and next week's assignments, he picked up his bike at the Green Lizard and then went to serve as a volunteer at packet pick-up at the race site. Landau recounts that it was fun seeing friends and helping Ina Nenninger, who gave a pre-race program that made the event less stressful and safer for everyone. Ina's events are a great way to get into the sport; anyone considering triathlons (or any multi-sport participation) should try one of her fun events.
In addition to volunteer shirts (and being "showered with love"), pre-registered volunteers receive a crew coupon worth valuable discounts on Tri It Now race entries. These coupons are for the volunteer to use or to transfer to the athlete of their choice. Coupons may be used for any future Tri It Now event during the 2017 season. Tri It Now was founded in 1998 with the goal of introducing people to the world of multi-sport. Over the years, Tri It Now has grown by leaps and bounds. These vibrant folks continue working to bring new excitement to our favorite races and adding new events. The last event of 2017 is the Tri It Now "Duit" sprint Duathlon on October 22nd, with a Run 1.5 miles – Bike 7.5 miles – Run 1.6 miles format, perfect for those of us who are not great swimmers and want a short event to test their "multi-sport legs" before taking on longer distance races.