Jamestown Triathlon Collegiate Championship & Family Racing Fun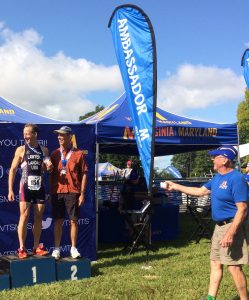 The future of Triathlon was on full display at the VTSMTS Patriots Sprint Triathlon Sunday. This race is the sight of the Mid-Atlantic Collegiate Conference race, so there were lots of athletes from regional universities. The Naval Academy had a large contingent, as did Virginia Tech, University of Delaware, North Carolina, Georgetown, College of William & Mary, University of Virginia, and others.
The college spirit was infectious, with athletes cheering each other on during the out-and-back sections and down the finishing chute. The race venue is the popular Jamestown Beach Park, next to the Jamestown settlement. Just minutes from I-64 in Williamsburg, Virginia, the swim was in the protected waters near the ferry landing, and the run was completely in the park with some shade. The swim was so shallow that some athletes were able to walk all the way to the first turn buoy!  After a 750 meter swim in the James River,  triathletes rode 20K over smooth roads along Route 5 in James City County. The run was an out-and-back, pancake flat 5K on the asphalt bike path.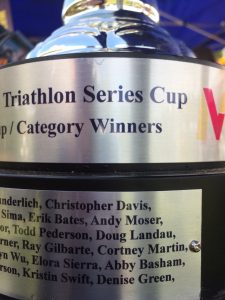 Having taken 2 weeks off from running, Doug Landau felt as though his leg was healing. While intending to tape his legs up as a preventive measure, Landau ran out of time and used the long run to the beach as his "warm up!" Also participating was his Herndon friend Bob Lytle, whose two kids, Katrina and Bobby were both competing for Virginia Tech. Lawyer Landau also ran in to his friend Aaron Church, who was there with his 15-year-old daughter Abigail and 12-year-old son Anderson. Landau remembers Aaron's first multi-sport race, the Strasburg Duathlon, and now the Chantilly Virginia Church kids are following in their father's successful footsteps. Abigail was the 2nd overall female by only 9 seconds, to a 23-year old racer from Raleigh, NC, and Anderson ran past Landau coming out of T-2, and only by putting "the pedal to the metal," was the Herndon injury lawyer able to pass the talented triathlete one quarter his age! "In a couple of years, it won't even be close," noted Lawyer Landau, "young Mr. Church has a terrific turnover and form on the run, and once he gets a little more endurance training under his belt and muscle maturity, he will be devastating."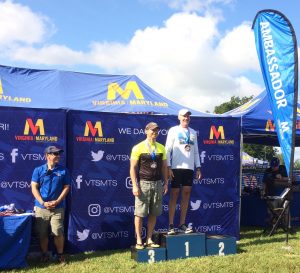 Landau had a good swim in his new wetsuit from Sportfit Labs in Herndon, and a strong bike as well (15th over all out of 435). On the run, he continued to pass other athletes, until the last half mile, when several collegiate athletes went by him like he was going in slow motion. Winning his age group by a healthy margin with the top bike and run splits, Landau was thrilled to see that his wife Melissa was also top in her age group. This was remarkable as she had gotten a 2 minute penalty for having her bike on the wrong part of her rack. So the Landaus made it to the top podium position, as did both Church kids and Bob Lytle, who won the race in the final straightaway with a kick that is sure to make the ESPN "Top 10" performances.
However the strangest thing was yet to happen. When Landau went to pick up his packet the evening before the race, he saw that a "Zachary Landau" was in the race. That is Landau's son's name. What's more, this Zachary Landau, from Laurel, Maryland, FINISHED IN THE EXACT SAME TIME as Doug Landau!!! And, when Landau met this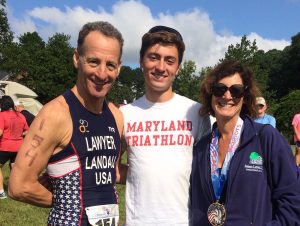 Zachary after the race, he told this University of Maryland student that his own son was in the military, a doctor and in Hawaii, on the island of Oahu. To which the Maryland Zachary replied that HIS FATHER was a doctor, in the military and in Hawaii on Oahu. How's that for playing "it's a small world?!!?" There's always something memorable at the Virginia and Maryland Triathlon Series races. Lawyer Landau's last Super Series race will be the Rock Hall Maryland Sprint Triathlon on October 1st. He hopes to win his Super Series Division again, and salvage a season marred by his inability to do quality run training.