First Responders Race Rolls Competitors, But Best Bike Split for Herndon Lawyer Landau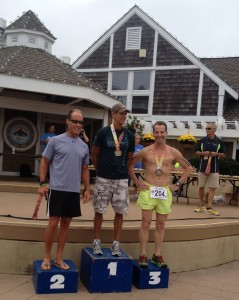 Similar to visiting the scene of a crash or checking out the courthouse, Herndon injury lawyer Doug Landau traveled to Bethany Beach, Maryland several days early in order to scout out the course for this popular late season multisport event. Set on the Eastern Shore up the road from Ocean City, Maryland, the Bethany Beach First Responders Triathlon, Duathlon and Aquabike finish right in the middle to the Town Square of this oceanfront resort town.
Triathletes looked forward to swimming in Bethany's beautiful and clean ocean waters, biking along one of the most scenic areas of Coastal Delaware and running through area towns along the coastline. The bike ride takes athletes into Dewey Beach over a unique looking bridge. However, Landau's scouting trip revealed crashing waves and difficult surf conditions. While dolphins were able to cavort just 10 yards off shore, lawyer Landau's more limited swimming skills were a concern.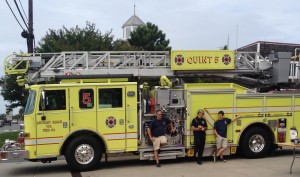 Though the inflatable transition area was set up the night before, the excellent Piranha Sports Race Directors did not announce whether the swim would even take place until just before the official starting time ! Even with a favorable current, Landau found it hard to get beyond the waves, sight the buoys, breathe and swim straight. Then, once he spied the inflated lighthouse signaling the swim finish, he tried to exit the ocean. But the waves had other plans… Landau was violently rolled, as were other competitors, like rag dolls. "It was all I could do to keep my wits; there was sand everywhere and I just knew I had to stand up and get to shore. Luckily I was not injured, though I did swallow a lot of sea water and pop up dizzy and disoriented."
Once on dry land, the Herndon triathlete raced through the transition for the second fastest T-1 of the day. Lawyer Landau then set a "Personal Record" on the bike, passing 60 other athletes and averaging 24 mph ! With another fast transition, Landau passed additional racers, but did not have the kind of run necessary to win the age group. Nevertheless, he was again on the podium, finishing 17th out of over 350 finishers, with many athletes unable to complete this longer sprint race. The Bethany Beach Triathlon (Swim, Bike, Run) distances were: 1000 meter Ocean Swim (.62 miles), 30k Bike (18.5 miles), and 7k Run (4.35 miles). Before the race, Landau had predicted a 100 minute finishing time – which he accomplished despite the difficult ocean exit and over 7 minute per mile running pace.  The Race Committee did a superb job, providing plenty of life guards on surf boards and pre-race swim and transition clinics. For official results, click here.