Is Your Pool Safe? Safe Drains = Safe Pools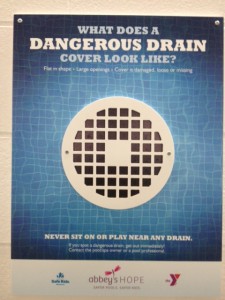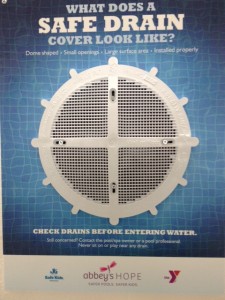 Because they must take in large amounts of water, the filters used to keep community swimming pools clean must have safety caps, otherwise they are capable of sucking out internal organs of a small child !  In fact this is just what happened in a horrific fatal injury case handled recently by a friend of Doug Landau's here in Northern Virginia.
That is why Landau was so glad to see the signs pictured above while swimming at a YMCA in Minneapolis / St. Paul during his training for the USAT DUathlon National Championships.  The pool at the "Y" had the modern drains, but the signs helped to educate patrons as to what they should be looking for when swimming elsewhere.
The safest drains are those with smaller holes and other improvements. Older, less safe drains have larger holes, may be flat, and due to wear and tear, may have breakage, cracking, or gaps that could cause a bathing suit to get caught, or small child to get stuck.
A small child sitting on top of an aging, broken, or poorly maintained drain grill is a recipe for disaster – even if being closely watched by a parent or adult guardian.  Make sure your pools are safe. Be sure to repair or retrofit older drains with the approved, safe drain cover. And for more information about safe drain covers and pool safety visit https://www.abbeyshope.org/.
If you or someone you know has suffered injury or death due to an unsafe pool drain and there are questions as to what laws apply, email or call Abrams Landau, Ltd. at once (703-796-9555).