Northern Virginia Cycle Fest Takes Washington Area Bikers Inside the Beltway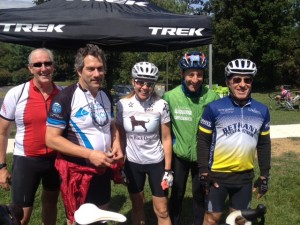 Sunday's 5th Annual Northern Virginia Cycle Fest was a challenging event with cyclists getting to see many different Fairfax County, Arlington, Falls Church and Annandale neighborhoods. The JCC Fairfax Bike Tour benefitted the Wounded Warriors Project and WABA (Washington Area Bicycling Association). Before bikers departed from the JCCNV on Little River Turnpike, they were given safety lights, bandanas with a map of the course, lots of shwag and a rousing send off. There were four ride options: 11 miles, 30 miles, 50 miles and 62 miles.
The Cycle Fest had information booths, giveaways, rest stops with tasty treats (and friendly volunteers), SAG vehicle support, Mechanical support and food at the end of the ride. Doug Landau started with friends from Herndon and then joined other triathlon friends after getting dropped while changing maps. What bicycle did the Triathlon Trial Lawyer use for this all morning ride ?  As mountain bikes were not permitted, and Landau's triathlon bike was still drying out after Saturday's Savageman 30.0 race, the Herndon Virginia biker rode the bike picked out by his friend, and wounded warrior, Jose Ramos, that had been bought for his son to use when he came home from his Navy assignments.  "The tri bike would have been too uncomfortable after 4-5 hours, but I would have liked a third gear to go up some of the short hills.  A "granny gear" would have enabled me to spin out my legs after the very difficult race the day before."
While there were many turns, the bicycle injury lawyer praised the safety consciousness of the ride volunteers, the time put in by the folks who painted yellow arrows all over the 4 courses, and the JCC for hosting such a fun, non-competitive event. Lawyer Landau did the 50 mile option and looks forward to participating in future events; hopefully with fewer turns !