Busy Day on Herndon Virginia's W&OD Trail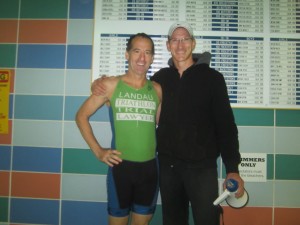 With BOTH a sprint Triathlon and a Bike-a-thon going West from Herndon Virginia and benefitting worthy charities, the W&OD Trail had plenty of use this morning.  There were volunteers, police and even a shoe "try-on" tent along the popular trail.
Herndon biker lawyer Doug Landau first took part in the Taylor Love Triathlon.  After swimming at the Herndon Community Center, racers ran across the soccer field to their bicycles and headed West to the turnaround at Partlow's in Ashburn.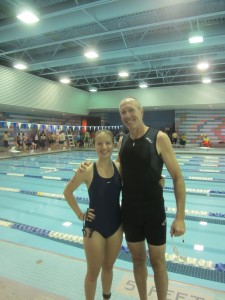 Returning from Loudoun County, participants in this TriPerformance event left their bikes on the racks and ran East to the Herndon caboose, where they turned around at the starting point for the Herndon Band's Bike-a-thon !  Runners then ran on the cinder part of the W&OD Trail past Crestview and turned around to head home on the horse path to the Herndon Community Center.  Photos from the Green Lizard Bike Ride to benefit the band will be written up in a future post.
Here are some photos from today's triathlon where Herndon lawyer Landau had the best transition combination, and second best bike and run splits, but finished in the runner up spot despite besting all of the teams. With temperatures in the 40's, Landau lost feeling in his hands and feet at the bike turnaround, and did not get his heart rate 0r body temperature up until a mile to go in the run.  By then, the eventual winner Brian Goebel had over 5 minutes on the Triathlon Trial Lawyer.  The 42-year-old Goebel was escorted by police on the W&OD Trail, with red and white lights a flashing to warn others of his approach !  Safety for this event was further ensured by police at every major intersection and there was a pre-race bike inspection station.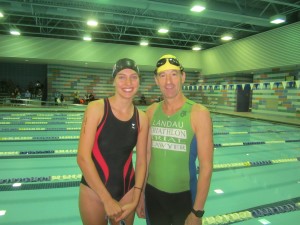 Loco Racing's Todd Stuckey did a great job as the race announcer, and Brian and Alissa Crow and their team of volunteers in both Loudoun and Fairfax Counties were all smiles and helping hands.  This is a fun race for newbies and experienced multi-sport athletes, as there were team, aquavelo and sprint categories.  And, as if predicting the unusually cold morning temperatures, the race preems included a warm plaid blanket, long-sleeved shirt and a travel hot tea mug !  Three cheers for the Taylor Love Triathlon team !