Virginia Run Triathlon a hit in Centreville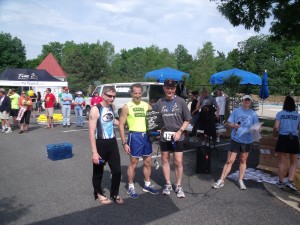 The Special Olympics Athletes who participated in the 6th "Virginia Run Sprint Triathlon" showed true courage and grit across a broad spectrum of athletic talent. Race Director Shandra Richardson had these incredible athletes take to the Virginia Run Community pool in Centreville before the rest of the field. Their performances were inspiring. "Fins Wheels Feet Racing" did an incredible job putting on a safe race with plenty of capable volunteers and post-race treats. "Fins Wheels Feet Racing" is a new, non-profit, triathlon race directing company that has brought great multisport events to the Northern Virginia region. All the Centreville event proceeds will benefit the Virginia Special Olympics.
Triathlon Trial Lawyer Doug Landau of the Herndon law firm ABRAMS LANDAU finished 8th overall, winning his age group as the first finisher over 50. Starting in the 70th position in the pool swim (and eschewing a wetsuit, which was allowed), Landau managed to improve to 30th, despite letting several faster swimmers pass him safely at the wall. Passing several racers in the transition area of the Virginia Run Community Center, Landau mounted his bike in the safety zone. Fatigued from running races Friday and Saturday, Landau put all his marbles into the bike portion of the race. Once into his bike shoes, Landau averaged 22.75 MPH to move from 21st to 7th, 3rd in his age group. Running 7 minute miles, Landau moved into first in his category and enjoyed Team Z's generous treats, collected several awards and capped off a very busy and successful athletic weekend. Click here for Official Results.