No Penalties at Virginia Run Sprint Triathlon – A Clean, Safe Centreville Race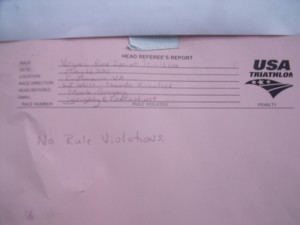 At last Sunday's Virginia Run Sprint Triathlon there were no bike crashes on Centreville Virginia's Pleasant Valley Road, just off Route 29 Lee Highway. Triathlon Trial Lawyer Doug Landau saw no apparent injuries on the streets of the running course and he did not see anyone crack skulls in the pool during the swim portion of this popular race. "Fins Wheels Feet Racing" did an outstanding job of putting forth a safe, fun and challenging event. Riptide Swim Team founder and Reston Triathlon winner Shandra Richardson and LJ White are experienced coaches, athletes and race volunteers. But don't just take Herndon injury lawyer Doug Landau's word for it, as they say in court, look at the evidence:
There were NO penalties at this race.
No USAT infractions + No Injuries + lots of smiles = a great race.