March of Dimes "Bolt for Babies"
The 3rd Annual Bolt for Babies 5K running race benefitting the March of Dimes was held today at Marymount's Arlington Campus. The March of Dimes is the champion for ALL babies and continues to make strides in the fight against premature birth!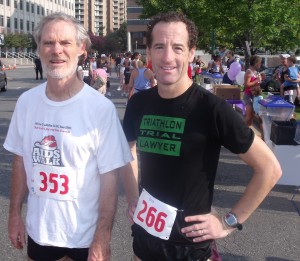 The March of Dimes also has such fund-raising events as "Bikers for Babies" and "Walk for Babies." This year's Bolt for Babies was a huge success with over 125 participants. According to the official results, Triathlon Trial Lawyer Doug Landau of Herndon managed to get 5th place overall, and was a top age group finisher, easily winning the 50-59 age category. Landau was using today's event to prepare for the USAT National Sprint Triathlon Championships at the end of September. While his time was slow (6:45 per mile average), his placing and lack of soreness afterwards were encouraging. Tomorrow the Virginia sports injury lawyer intends to do a "brick" workout on the Reston Triathlon bike and run courses, as the ABRAMS LANDAU, Ltd. attorney is scheduled to be a volunteer at South Lakes High School on Saturday and then race on Sunday, September 12th, 2010.