Poisonous snakes and cyclists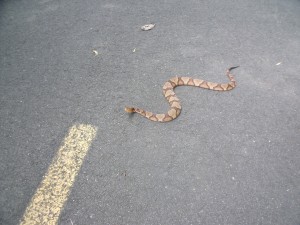 While riding in the Reston Century last Sunday, I almost ran over a snake. Not just any snake, but a poisonous copperhead that was sunning itself in the middle of the path ! Luckily, I avoided contact with the venomous reptile, but this is not the first time I have seen a large snake on the W&OD Trail in Loudoun County. Another snake incident nearly caused me to swerve and crash. And, a black snake my wife ran over nearly bit me as I followed her near the Luck quarry ! While these snakes can be quite beautiful, it is best to give them a wide berth and not incite an attack that could prove fatal.
The Reston Runners website also reports "An unusually high number of copperhead snakes have recently been reported in Fairfax County. Copperheads are venomous snakes that are found here and throughout Virginia." In tomorrow's post, I will share some excellent tips from an Australian cycling site. The Aussies have to contend with a number of the most dangerous poisonous snakes on the planet, so their bikers and runners have a lot of good safety information to share with athletes here in America.