What to do if bitten by a snake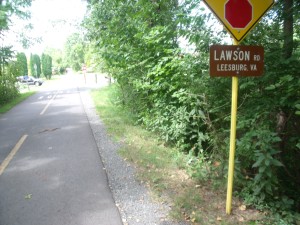 Here is the photo showing where I saw the snake during the Reston century bike ride. Yesterday I posted a "close up" of this deadly W&OD Trail user. Because I want all cyclists to return home safely, I looked about for information on how best to protect yourself. Here are some tips from the "Bicycling Australia" where they have LOTS of poisonous snakes !) to help you manage the "risks of the road:"
Always ride with others. It makes sense in case of any accident or mechanical failure, not just in case of snakebite. If you are close to town, you can rely on a mobile phone, the ambulance service or a nearby car. In more remote riding areas you need to be self-sufficient. Most first aid kits contain a large bandage that may be very useful if you are unlucky enough to get bitten. The prime rule is to remain as calm as possible and do not go seeking medical attention, rather bring help to you. To panic and ride in search of help will distribute the venom, if any, through your system. Sitting calmly by the trail waiting for assistance is important.
Your riding companion may have to go and seek help for you. Use the bandage to put pressure over the wound. Not too tightly and definitely not a tourniquet, wrap over the bite and then along the limb (assuming it was an arm or leg that got attacked). On the torso use the bandage to apply pressure over the wound. Venom is distributed through the slow moving lymphatic system (not the speedy arterial system) so if you don't move a lot, the toxins won't either. For more information on treatment go to www.stjohn.org.au or, more appropriately, take a first aid course to get up to speed on how to best manage incidents such as this.
If at all possible, identify the type of snake that did the damage. Note colour, size, shape of head and so on. Take a photo of it with your digital phone if you can but do not try to capture the snake or more biting will ensue! Awareness of your surroundings and knowing what to do should snakebite happen are really all the properly prepared cyclist need consider.