Luray Triathlon – one of the gems of the Virginia Triathlon Series
While Triathlon Trial Lawyer Doug Landau has not entered sufficient races in the Virginia Triathlon Series ("VTS") this year, he nevertheless enjoys the competition and camaraderie of the events that Set-Up, Inc. puts on all over the middle Atlantic region. While he does not intend to race at the Olympic Distance in 2010, Landau is slated to compete in three sprint distance races, in Luray, Warrenton and Spotsylvania Virginia.
The Luray Triathlon is set in the foothills of the Blue Ridge Mountains in the beautiful town of Luray. A half mile one loop swim in pristine Lake Arrowhead gets athletes ready for the rolling 16.5 mile bike on paved roads surrounded by the woods and farms of the Shenandoah Valley. The race concludes with a 5K that is an out and back with rolling hills and all on the roads of Page County. Landau has competed successfully in the Olympic Distance Race, which uses much of the same routes.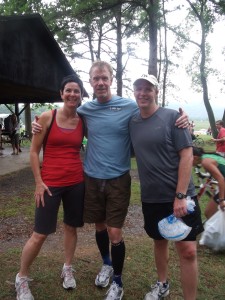 The VTS race directors suggest that athletes come to Luray with its 300+ acres of award-winning parkland and spend some time exploring the downtown and seeing what the Shenandoah Valley has to offer ! Set Up, Inc. offers a real challenge for IronMan and half Iron athletes who want to test themselves over 2 days. Billed as the "Luray Double," Athletes who complete the "Luray Double" by completing the Luray International and Luray Sprint in the same weekend receive a special hand-engraved goblet. Furthermore, comic strip "Frazz" creator Jef Mallet is slated to try the "Luray Double" as is "Rehab to Racing" Coach and training partner Rob Colburn.