Luray triathlon supports local United Way and promotes safety with pre-race clinics
A race that supports a noteworthy charity AND promotes safety – now that's my kind of event !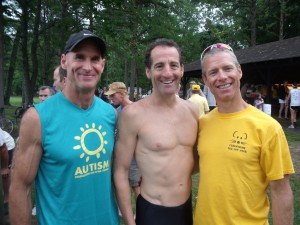 First off, the Luray Triathlon benefits the United Way of Page County. In appreciation for the support of the local Luray and Page County communities in hosting the event, the Luray Triathlon donates a portion of the race proceeds each year to benefit the local community. In 2010, the United Way of Page County will once again be the primary beneficiary. The sole function of the United Way of Page County is to raise money for their 11 service and non-profit Partner Agencies.
In addition to the "Luray Double," this multisport offers Triathlon Clinics in advance of the race. There was a "Race Prep & Open Water Swim Clinic" on 5/29 and 8/7 at Lake Arrowhead in Luray, Virginia. Geared toward beginner and novice triathletes, these clinics will help prepare for any sprint or international distance triathlon. The Race Prep Clinic includes detailed course discussion; a lifeguard supervised open water swim in beautiful Lake Arrowhead; and a chance to ride and run the scenic bike and run courses. The Open Water Swim Clinic includes the swimming portion only. These pre-race events really help increase the safety of the participants on race day and give newcomers to triathlons a chance to "get their feet wet" in a safe, non-competitive environment.