Age Group, Masters prizes and top-20 finish for Triathlon Trial Lawyer Landau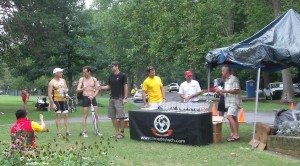 After driving out to Luray through the fog and rain on the morning of this race, Doug Landau barely made it to his heat on time. The warm water of Lake Arrowhead meant that wetsuits were not legal for those competing for prizes. Even though the Herndon Reston area triathlete lawyer was not part of the Virginia Triathlon Series this year, he nevertheless wanted a good time in order to assess his fitness in advance of next month's USAT National Sprint Triathlon Championships. However, in addition to not having his beloved wetsuit, Landau also blew the valve off his race wheel. "Always prepared," the resourceful trial lawyer brought his training wheels (and an extra helmet, goggles, water bottles, etc.), because he has had to go with "Plan B" before !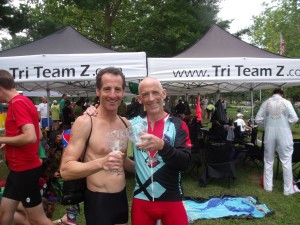 After his inauspicious pre-race preparations, Landau had a mediocre swim, but managed to not get passed on dry land, reeling athletes throughout the bike and run portions of the race. Landau finished in the top 20 out of over 400 athletes, easily winning his age group and getting a carved goblet for 3rd place master in a time of 1:29:32. As the oldest racer in the top 20, Landau did not feel sore afterwards, and was glad to have a chance to talk with "Frazz" comic strip creator Jef Mallet. Landau has often clipped and sent "Frazz" strips to his friends and family. Mallet finished both the Luray Sprint AND the Olympic Distance race the day before. Now that's hard core !