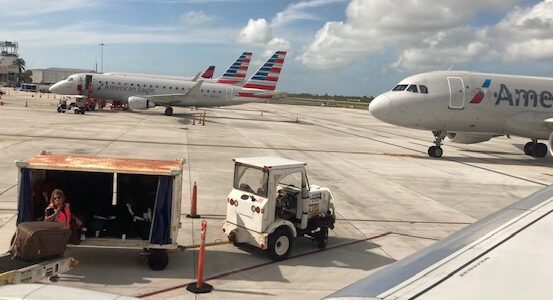 Crush and Amputation Injuries at the Airport Runways
Having won and settled cases involving airport construction, vehicle, and luggage tug crush injuries, Doug Landau is alerted of similar incidents across the country.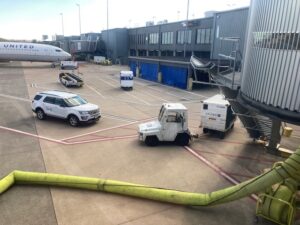 Airport construction is far more complicated than construction on public roads. In addition to regular four-wheeled vehicles, such as trucks and vans, airports also utilize vehicles not designed for roads. These motorized carts and mobile luggage conveyor belts do not include the standard safety equipment of a passenger car or bus. Vehicles like Cushmans, tugs, and runway maintenance vehicles do not have regular bumpers, airbags, padding or other safety devices.
Further complicating the situation in the Air Operations Area (AOA), is the fact that there are a variety of aircraft. Aircraft come in all different sizes with loud engines that make it hard to hear warning sirens or other audible cautions. Construction also does not take place at regular intervals in major airports. Oftentimes, with vehicles on the runway at night and vibrations of jet engines, workers on the ground can have a difficult time recognizing dangerous movement. This can leave workers unable to: hear, see, feel, smell, or be aware of dangers that they may encounter in the vicinity of the runway.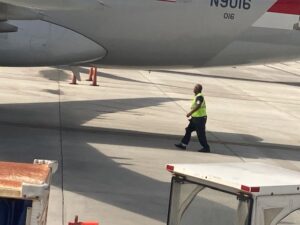 Upgrades in equipment, gates, fuel, economy, and waste removal can require new protocols and procedures, as well as training. With the difficulty in hiring skilled mechanics and other AOA workers, older workers are asked to work longer hours, often without breaks. A concern is that older workers get tired and might make mistakes, but newer workers who are brought on board too quickly may not have experience or training necessary to avoid unnecessary injury. This is a dangerous combination on our nation's runways.
In one case handled by the Abrams Landau Airport Injury Team, the foot of a young luggage tug operator was crushed when he was struck by a steel frame Cushman vehicle traveling at high speed. The tug operator filed a Worker's Compensation claim with the airlines that he worked for at the time. In addition, he also had a third-party negligence case against the unsafe driver of the Cushman, who worked for a different company at Reagan National Airport (DCA).
The Abrams Landau Team was able to get a sizable settlement as a result of a significant permanent injury to the operator's ankle mortise. His ambulation (ability to walk) would never be the same, and he had a much greater risk for early-onset arthritis and bone/joint disease.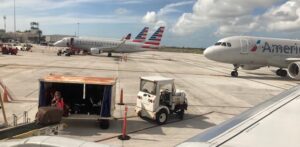 The Cushman driver's record behind the wheel was also a significant piece of evidence that helped the victim's case. The airline only checked the Defendant's driving record upon hiring, and then rarely after that. Lawyer Landau noted after the case was resolved that, "the airlines must make a better effort to check criminal and driving records of the individuals who drive vehicles in the Airport Operations Area (AOA), as they present an unusually high risk of harm to the traveling public, and to other workers who are there doing their jobs on the runways and around the gates."
Recently, Doug Landau was made aware of a worker at Sea-Tac Airport who brought a lawsuit after losing his leg and a baggage cart crash. This case was brought by the same lawyer who had a similar case a decade ago.
In 2018, Sea-Tac was experiencing a high volume of accidents and injuries by the tarmac. The data revealed that 84 of the 311 documented incidents resulted in hospitalization. Of those injured, individuals sued against airlines, the construction company, and the Port of Seattle. The lives of those who became disabled, or had a limb amputated, had become severely altered. While the number of reported incidents continues to grow, Sea-Tac's MAJOR incident rate has decreased.
If you or someone you care for has experienced a similar situation in which has resulted in an injury at the airport, please do not hesitate to call us at (703) 796-9555 or email frontdesk@landaulawshop.com