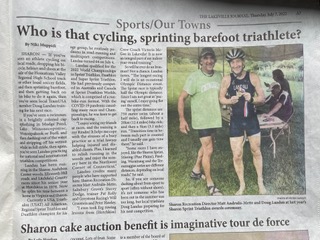 "Barefoot Barrister" Doug Landau Written Up in Connecticut
When someone rides their bike up to a track, leaps off their bicycle, tosses their helmet and starts tearing around the turf field barefoot, and then repeats the process several times, it tends to attract notice. When that same person, comes splashing out of local lakes, tearing off their wetsuit, cap and goggles, and goes running up the hill full tilt, it also attracts attention.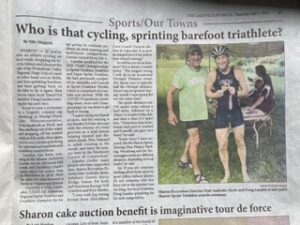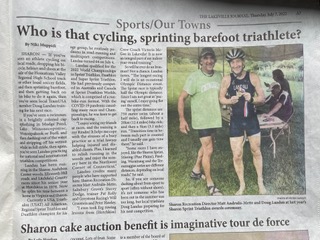 The Lakeville Journal newspaper wrote about Doug Landau, who does a lot of training in the Northwest corner of the Connecticut. Ever since he ran track at the Hotchkiss School his senior year, he has enjoyed running, biking and swimming in Litchfield County, where he is also a member of the Bar Association. Especially during the Covid pandemic lockdown, Landau logged lots of miles in local lakes, high school track & turf soccer fields, and on his bicycle over the Berkshire hills.
Lawyer Landau notes, The hilly terrain, and the clean lakes make for a wonderful training environment. I also enjoy racing here, and recently finished 12th overall at the Lake Terramuggus Sprint Triathlon, winning my age group again, even though I was using an old bike. My racing bike was still in transit back from the World Championships in Montreal, Canada. Unfortunately, the night of that race, I started feeling symptoms, and my son, Dr. Zachary Landau, said I should take a COVID test the next morning. In fact, that night, my cell phone WhatsApp messages exploded with members of TeamUSA reporting that they were coming down with the new strain of Covid. I had thought that I had ducked this bullet, as I: was in Canada less than 24 hours; did not attend any team meetings; did not participate in the parade or opening ceremonies; ate in no restaurants; and wore my mask up to the point I jumped into the water to start the race! Then, shortly after crossing the finish line, I ran back to my dormitory where I had stayed by myself, making my own meals, and grabbed an Uber back to the airport. Unfortunately, we have let Covid mutate and propagate for too long after it began killing people in 2020, instead of nipping it in the bud. The new strains are extremely contagious, and even with my vaccinations and two boosters, the next day my resting heart rate was 150% of normal and after dozens of prior tests and blood donations, I tested positive for Covid. I spent the next several days by myself, during my 4th of July birthday week, face down on the bed at the Interlaken hotel, in Lakeville Connecticut.

After being on the Paxlovid and just sleeping all day, I went into isolation in a basement room where I jokingly said my family only fed me flapjacks and flounders, as those are the only things that would fit under the door! This strict protocol was required as I was desperate to it attend my son's wedding on July 9th in Albany, New York. Fortunately, my strict adherence to physical distancing, rest, no intense activity, and hydration, enabled me to take part in the festivities, return to work helping my clients at the Law Shop, and also protecting school children through our "Lids on Kids" program, which continues through the summer.
After the USAT National Triathlon Championships this week in Milwaukee, Wisconsin, I hope to make up for the lost "R&R time" in the NW Corner, by returning August 12th with my 87-year-old mother, new daughter in law & son. In addition to getting more sleep and napping since my bout with COVID, I do hope to get in some quality training at some of my favorite venues. Recently, I have tried to resume intense training, but I am 10-20% off, with a slightly elevated resting pulse, and my heart rate numbers during competition are ridiculously high for the perceived effort and speeds attained.  So I may be battling with some lingering aftereffects for quite a while. Getting beat at Colonial Beach and Rev3 Lake Montclair did not sit well with me, so getting back atop the podium at the Kinetic Multisport Culpeper Sprint Triathlon on July 30th was a big confidence booster.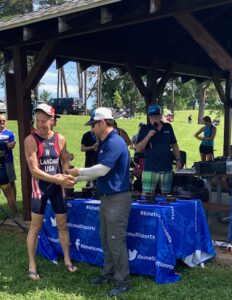 The goal that my USAT Coach has laid out for me is to try to regain my pre-Worlds fitness and garner a few more podiums before the 2022 MultiSport racing is over in the Fall.  Currently ranked #1 by USATriathlon for my age group in Virginia and leading the Maryland & Virginia Triathlon Series standings by a slim margin, I hope a few quality finishes at late season events will enable me to remain as USAT Regional Sprint DUathlon and Sprint Triathlon champion. I will certainly give it my best efforts.
Doug Landau's future races (and travel schedule) include the following events (though changes may occur due to cases, family obligations & health issues). Lawyer Landau visited with clients after the Culpeper Triathlon, and has met with clients, witnesses and visited accident scenes often in connection with his racing schedule.
.
Aug. 4-7: USAT National Championships, Sprint Triathlon, Milwaukee, WI.
Aug. 13: Sharon Sprint Triathlon, Mudge Pond, Sharon, CT.
Aug. 16: Night of Miles, Litchfield High School, CT.
Aug. 28: Fawn Lake Sprint Triathlon for Wounded Warriors, Spotsylvania, VA.
Sept. 1-5: Wedding in California & meeting with staff, counsel, San Diego, CA
Sept. 10: Willing Warrior Bike Ride, Broad Run, VA
Sept. 15-18: Tri-Arts production by Henry William Kimmel, Esq., Sharon, CT.
Sept. 25: Kinetic Multisports Acorn Sprint Triathlon, Lake Anna, Spotsylvania, VA.
Sept.29-30: Virginia Workers Compensation annual conference, Expo Center, Richmond, VA.
Oct. 1: Washington Dulles International Airport Runway 5/10km run, Loudoun County, VA.