Red Light, Green Light is no Game on the Airport Operations Area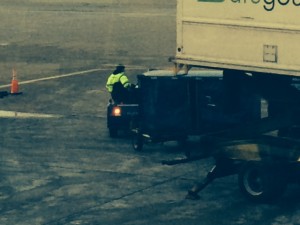 At most international airports, including the three major airports in the Washington DC Metro area — Baltimore Washington International Airport ("BWI"), Dulles International Airport ("IAD"), and Reagan National Airport ("WAS") —  there is a ticketing and points system for drivers on the "airport operations area" (AOA) just like on the roads and interstate highways.
However, enforcement is another question entirely.
Drivers on the AOA are instructed to use proper lights at night, put on brake lights when stopping, and even obey the rules of the road on their way to meet aircraft or busy baggage terminals; but a ticketing and point system is another matter entirely.
Airport injury lawyer Doug Landau, of the Herndon law firm Abrams Landau, Ltd., believes that safety on the AOA should be of the highest priority. The AOA is traveled by vehicles which, like cars and trucks on our local roads and interstate highways, can impose danger on others when not operated safely. At busier aircraft hubs and international airports, there is even traffic congestion which, when not properly managed, can lead to accidents.
Cases of airline workers who are injured on the AOA because another operator is not following proper "rules of the road" are not infrequent.  Click here to read about an incident at Dulles International Airport.  If you or someone you know is an airline worker who has been injured in an accident while working on the airport operations area and there are questions as to what laws apply, email or call Abrams Landau, Ltd. at once (703-796-9555).