Workers Comp for Airport or Airline Workers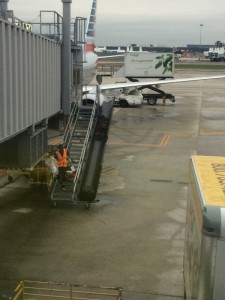 If you work for an airport or airline, what happens if you are injured on the job? Will the airline's or airport's workers' comp policy provide you the necessary protections? Will you seamlessly apply for and be approved to receive workers' compensation benefits?
According to an article published by National Public Radio (NPR), the answer is probably not. The article describes a chipping away over time of the rights of injured workers in our country.
In fact, Dulles and Reagan National airports area lawyer Doug Landau agrees with and has witnessed much of what is revealed in the NPR story. (Click here to listen to the audio.) Employees who suffer the most catastrophic workplace injuries are typically the ones who face the most difficulty in qualifying for and receiving workers' comp benefits.
Workers' Comp (WC) began in the Unites States in the early 1900's, as industrialization put workers at an increased risk of serious injury in workplace accidents. With the advent of commercial airline travel, airline and airport workers certainly fall into the category of workers vulnerable to serious workplace accidents.
Under the leadership of President Teddy Roosevelt, the country as a whole was on board with the notion that workers and their families should not have to bear the burden of workplace accidents that may not have been their fault.
A cornerstone of the workers' comp system was workers relinquishing their right to sue employers for workplace accidents under Common Law (for Negligence, Gross Negligence, Intentional Torts and even Violations of Law!). Workers agreed to the limited medical and partial wage replacement benefits of the workers' compensation laws in exchange for the security of knowing their employers would take care of them if they were injured on the job.
By 1920, almost every state had its own WC laws. Although the states' laws differed in their particulars, central to them all was the idea that if an injury was work-related, workers would be entitled to appropriate medical care and wage loss compensation.
In the 1970s, with the passage of the Occupational Safety and Health Act (OSHA) came a review of workers' comp. At the time, a set of 19 recommendations were mandated to the states by Congress. These recommendations, by and large, bolstered the rights of workers.
However, beginning in the 1990s, and continuing until the present day, the employers and their insurance companies have lobbied the states consistently in an effort to eliminate or reduce the protections for employees. Injured airline workers lawyer Doug Landau notes, "Congress' recommendations have not been enacted, and in fact, many of the rights recommended for the benefit of disabled workers or their families after a fatal workplace accident, have since been stripped away."
Representing disabled airline pilots, flight attendants, ground crew workers, airport employees, and more throughout the East Coast, Landau, of the Herndon law firm ABRAMS LANDAU, adds, "State laws vary widely.  For my clients who live in Virginia, work in Washington, D.C., and are injured in Florida, Connecticut or New Jersey, where the case is decided could have significant impact on their medical care and receipt of monetary benefits."  A particularly shocking example is that the loss of an eye in a workplace injury would provide a worker in Alabama with $27,280, whereas that same worker in Pennsylvania would be entitled to $261,525.
In addition to big business and the insurance company lobbyists pushing for cutting the dollar amounts of benefits, they are trying to make it harder to get swift medical care and even more difficult to get comp benefits at all !  An injured worker must go through increasingly large hoops to qualify for WC benefits.  Furthermore, with cutbacks in state budgets, the Landau Law Shop team is seeing tremendous backlogs for claims to be decided.
The overall impact has been a steady chipping away over time of the protections once believed to be so integral to our country's heart and soul.
Why, for example, should WC insurance companies be posting 18% profits when a worker — if he or she is lucky enough to have any savings — cannot even earn 1% on money in the bank? Why do the interests of big business, insurance companies, and employers seem to be taking precedence in today's environment?  Why should it take so long for disabled workers' WC claim to be approved, forcing them to go without costly medical care, medications, and treatments while awaiting a decision?
If you or someone you know has been injured in an on-the-job accident at an airport or airline, and there are questions as to what laws apply, email or call Abrams Landau, Ltd. at once (703-796-9555).