Are Dulles Airport Runways Safe?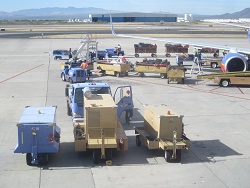 According to an article in the Washington Post, the Metropolitan Washington Airports Authority (MWAA) paid a $2 million wrongful death settlement to the parents of 25 year old Southwest Airlines ramp agent Jared Dodson who was killed when the baggage tug he was steering was struck by a mobile lounge on the runway at Dulles International Airport in 2012.
The mobile lounges, 35 ton vehicles that transport passengers from one terminal to another at Dulles airport, are not used at any other airport in the country.
The legal team hired by the Dodsons claim that problems with the instruments on the lounges themselves, poor visibility at Dulles in the dark, and unclear rules governing vehicles used around the terminal make use of the mobile lounges unsafe.  Furthermore, they blame these conditions for their son's death.
The airport's manager, however, said that lounges always have the right of way, and cited data showing that Dodson is the only fatality in 10 years of more than 4.5 million trips by the lounges at Dulles.
According to Washington area airport injury lawyer Doug Landau, accidents on the Air Operations Area (AOA) occur as a result of jet crew just making unsafe maneuvers, vehicle operators on the tarmac acting negligently, or a combination of vehicle operators, ground personnel, and aircraft operators failing to follow safety protocols.
"The death of Dodson is a tragic example of what can happen in a crowded AOA.  Hopefully the investigation into this accident will cause MWAA to take a harder look at its safety standards at both Dulles International and Reagan International airports," notes Landau.
If you or someone you know has been injured while working at an airport and there are questions as to what laws apply, email or call Abrams Landau, Ltd. at once (703-796-9555).