Extra Wide Seats on Airplanes?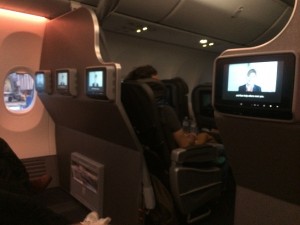 In addition to "extra leg room," should airlines offer "extra hip room ?" In this era of maximizing the number of passengers that can safely fit into commercial aircraft and charging for food, bags, pets, bikes, and headsets, Herndon Airline injury lawyer Doug Landau wonders if "extra wide in the sky" will become another "a la carte" option for air travelers.  "Fly-Guy" George Hobica, founder of airfarewatchdog, recently published an article calling on airlines to add a couple rows of wider seats on their commercial aircraft.  The article has gone viral, and is turning up all over social media.  Airline safety lawyer Doug Landau first came upon it on Linked In.
Hobica argues that if some travelers are willing to pay for extra legroom, surely there are also some who would be willing to pay for extra width.
Extra wide seats, he says, would alleviate problems caused when obese passengers — or even bodybuilders — "encroach onto other passengers' space, causing discomfort for everyone."
Lawyer Landau sees the merit in Hobica's argument. "Tall travelers are offered the option to upgrade their seats for extra legroom," notes Landau, "so why can't wide passengers have the option for extra width?  I have seen larger passengers made uncomfortable by crew members who bump into them with beverage carts.  I have also seen larger travelers endure the embarrassment of requesting a double seat belt.  Wider seats would be a welcome solution."
As the original article noted, although some airlines' policies dictate that larger passengers must purchase two seats, this is rarely enforced.
If you or someone you know has been injured while traveling on an airplane or in an airport and there are questions as to what laws apply, email or call Abrams Landau, Ltd. at once (703-796-9555).