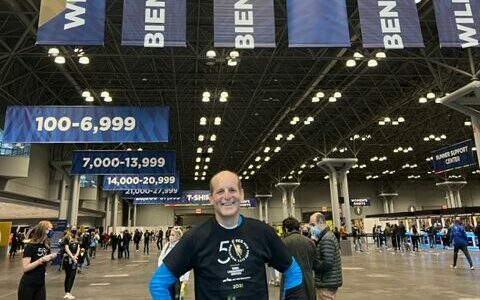 Volunteering – It's In Our Blood!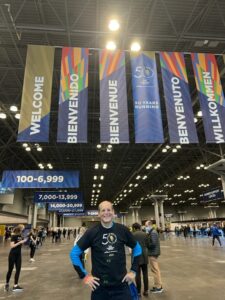 As much fun as Doug Landau has volunteering at races, flagging at the Prince William Freedom Fitness Center, and doing body-marking for the "Tri It Now" events, his brother's computer skills and race experience makes him a valuable volunteer at races like the NYC Marathon. Ken Landau, who worked for Apple Computer in the 1980's, has been a volunteer at this premier event at both the race expo and the finish line. His photography skills capturing famous sports personalities, along with his patience and empathy for athletes, makes him a perfect fit for the job. Ken Landau has "walked the walk" by completing both New York City and Boston Marathons. Currently working with Toshiba in New York City and New Jersey, Doug's younger brother is a wizard at figuring out technology solutions. Ken guides athletes with ease and grace which helps reduce their anxiety and uncertainty, especially in the days leading up to a huge international sporting event. While they are separated by an Olympiad, people often mistake Ken for the older brother, since he is taller, calmer and can fix just about anything (usually without reading the owners manual)!
Inspired by their mother and father's volunteer efforts, the Landau boys enjoy helping AND competing. Doug Landau remembers his father Norman Landau working as a Marshall at golf tournaments; raking the long jump pit at high school track meets; and tossing balls for little league tryouts. The Landau brothers mom was a frequent volunteer for various schools and charitable organizations.
Both of their parents were also very good athletes, who inspired the boys to do their best and be good sports. Norman Landau made it to more of Ken Landau and his sister Lisa Landau's high school track meets than they did! Once, the team's bus broke down and never made it to a track meet that their father attended! When Lisa Landau graduated, the school presented her father with a jacket that showed his record: 39 for 38! Doug Landau still has the jacket.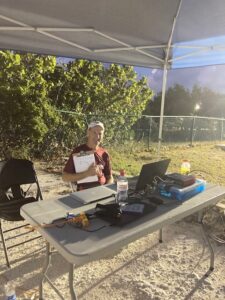 No matter what your athletic background, you can always volunteer. Races and other local sporting events are always looking for help. While the referees on the field may get paid, most little league and charitable sporting events do not have the budgets for large staffing expenditures. It is a good way to support your sport, friends, and family who participate. In addition, it allows you to see things from a different perspective. Race directors and league managers are grateful for volunteers. Sometimes volunteers get a free t-shirt, meal, drinks or other shwag.  Other times volunteers get a guaranteed race entry into the next year's event, which is a valuable commodity for competitions that routinely sell out, like the Cherry Blossom 10-miler in Washington, D.C.  Other races give volunteers a discount toward future race entries.
It takes lots of helping hands to put on successful, safe and fun events for kids and adults alike. So, whether you are injured or have raced the day before, please consider being a volunteer. In the mid-Atlantic region's popular Kinetic Multisport Race Series that Landau helps sponsor every year, local sports teams, girl scout and boy scout troops will often participate together, making for a fun social event as well as an opportunity to earn a badge or "community service hours."
If you have any questions about volunteering opportunities, please contact us at 703-796-9555 or email frontdesk@landaulawshop.com.