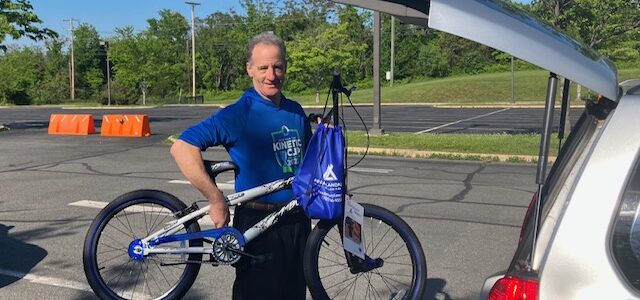 They are at it again: Bicycles, Helmets, and Other Goodies for Local School Children
While the "Lids on Kids" program started by 

Doug

Landau has given free bicycle helmets to thousands of school children throughout Northern Virginia and beyond, in 2023, the program visited its first Middle School and High School! Partnering with the Loudoun County Public School systems, "Safe Routes to School" program and the amazing Maverick Bike Shop. Smarts Mill Middle School and Dominion High School were the scene of happy students getting free bikes, helmets, locks, lights, "Bike to Work Day" t-shirts, and other goodies. Unlike the Elementary School students Landau usually equips, these students did not get bike safety coloring books and crayons!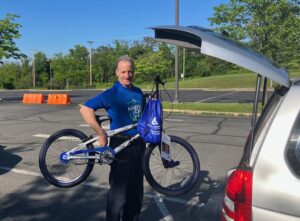 Another difference with the program at Smarts Mill Middle School was that it took place in the auditorium. So unfortunately, Doug and Melissa Landau could not teach the students how to operate the gears, brakes, and other features of the wonderful Maverick bikes provided top each qualifying student. In 2022, Doug could be seen running around the gymnasium, or the school playground, holding children as they learned to go through the gears, test the brakes, and adjust the seats to their size. Fortunately, all of the students received properly sized bicycles and brand new Bell helmets at Smarts Mill. These middle schoolers all seemed to be experienced cyclists who did not need much in the way of help. Along with Loudoun County Public Schools staff, Donna Torraca, Janice Jennings, and Lisa Campbell were there to give expert advice and assistance, with the school's bilingual family liaison. This provided Lawyer Landau an opportunity to practice his Spanish, which is not as good as his bike handling skills! Melissa Landau made sure that each student's bag contained the safety equipment, and educational information for them to bring home. Unlike what she had done with the small children at previous events and bicycle rodeos at the Elementary Schools in Loudoun and Fairfax Counties, she did not have the students sign a "contract" promising to always wear their helmet, as they're older and expected to know to always wear head protection. In fact, nearly all the students who got bicycles in May were taller than Mrs. Landau!
Doug Landau was concerned that since the stockpile of helmets at the Landau's Law Shop was destined for fifth and sixth graders, they would not have sizes large enough for Middle and High-schoolers. However, their inventory and the resources of Loudoun County Public Schools were sufficient to meet the needs of EVERY SINGLE student. What is it special about the "Lids on Kids" program is that Landau guarantees the helmet until each student is 18 years old. In other words, if their helmet is involved in an accident, develops a crack, or damaged, Landau will replace the helmet. As long as it has the ABRAMS LANDAU law firm's sticker inside, no questions will be asked and it will be free of charge.
In one instance, an embarrassed mother and her son came to the Landau Law Shop the next day after an event at a nearby Herndon Elementary School. The mother explained that her son swore that the lawyer would give him a new helmet if it was ever broken, and unfortunately, he fell and broke it the first day home. Doug Landau told her that indeed, that was the case, and invited them back to the conference room where the young boy could choose whatever helmet he wanted that was in his size. Landau then fit it to the child, gave them instructions on how best to wear it, and sent them on their way. On their way out the door, he overheard the boy say, "see mom, I told you so!" This made Landau's day.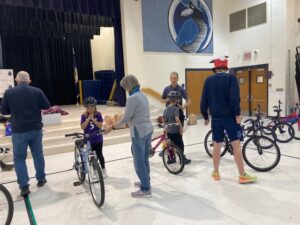 The feeling at ABRAMS LANDAU is that if we prevent one unnecessary skull fracture, or save a child from one preventable concussion, the whole program, and over a decade of effort, will have been worth it. Plus, if children become more active riding their bikes to school, and elsewhere, hopefully childhood obesity can be avoided.
"I remember my youth, riding my bicycle to my friends' houses, the school, and my first jobs. It's gives one the sense of freedom and wonder that many children are missing by being stuck inside, sucked into staring at a computer screen or television for hours. I think that the Loudoun County Public Schools Safe Routes To School program is extraordinary. I cannot thank our partners at Maverick Bicycles enough for their tireless efforts to get kids on two wheels and out the door. I hope to visit many more schools next year, and to continue the 'Lids on Kids' program for as long as I am able. " -Doug Landau 
I
f you know of a school that may qualify or a program that would benefit from a bike safety presentation, please let us at 703-796-9555 or email frontdesk@landaulawshop.com.