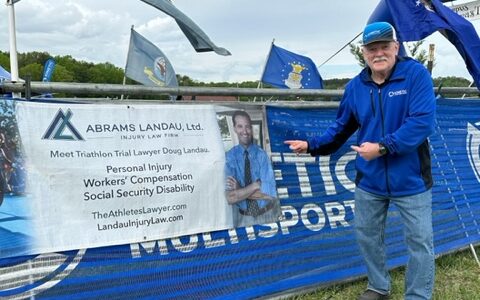 Not Racing, But Still "at" the Races!
Even though he is injured and not able to race, 

Doug

Landau is still honoring his commitment to be a major sponsor of the Virginia and Maryland Triathlon Super Series. Kinetic Multisports puts on races from North Carolina to Pennsylvania, and ABRAMS LANDAU is a perennial supporter of their fun Triathlons, Duathlon's, Aquathons, AquaVelo and Fondo events. From super sprints to half Ironman events, Kinetic has something for every level of athlete.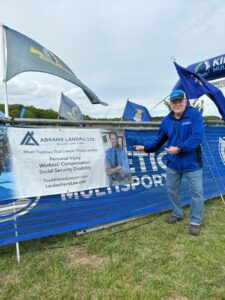 The 2023 Kinetic Multisports season appears to be off to a terrific start, with most races almost full. The feedback Landau has received from friends who have been participating, is that the events are well-run and a solid value for the money. Doug would like to be at the starting line of these races, but is still recovering from injuries. Landau had stopped running in mid-December due to heel pain, anticipating resting it to recover during the "off-season." However, he also fell during winter vacation, breaking his right hand, re-injuring his fractured collarbone and dislocated shoulder.
Landau just underwent his third PRP (platelet rich plasma) injection by experienced surgeon Tom Fleeter at Town Center Orthopedics. Dr. Fleeter is a skilled bike rider and swimmer, who has been a volunteer and sponsor of the Reston Triathlons for many years. For the first two PRP injections, Landau used crutches to stay off his foot, and let the treatment work. A part of the protocol, he stayed off: caffeine, aspirin, NSAIDS, alcohol , artificial sweeteners, and made sure to take his multivitamins, mineral supplements and "shark pills" (Glucosamine and Chondroitin) to support healing tendons, ligaments and other "connective tissues." The PRP procedure involves taking blood out of the body, spinning it in a centrifuge, taking out the "sticky" platelets, and re-injecting them in the area of injury. The anticipated response includes helping tissues reattach, since true regeneration is not possible for ligaments, muscles, and bones. As the injection is of your own blood byproducts, there's very little risk of complication or tissue rejection. And, as Landau is temporarily ineligible for his regular INOVA Red Cross blood donations (because of his several visits to the Dominican Republic this winter), he's got plenty of extra red blood cells for Dr. Fleeter to use!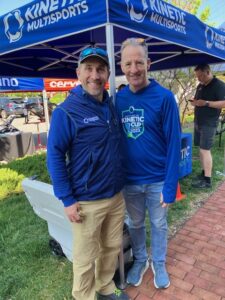 Landau is hoping that he will be healed by July in order to participate in the last few races of the triathlon season. Because he will not have enough events under his belt, he will be ineligible for the overall Kinetic Multisport Series Championship, which he won for his age group in 2022, and several times previously. His goal in 2023 is to participate and get back his fitness. Landau has canceled all racing, including five National Championship events and a World Championship this spring, in order to focus on his: legal practice, family and recovery from tearing the plantar fascia off of his calcaneus (heel bone). Ever the optimist, he has not yet withdrawn from the ITU Sprint Triathlon World Championships in September.
As of this writing, Landau has not run, ridden his bicycle outdoors, or raced since mid-December. Currently he is swimming, lifting weights, rowing and running in the water ("hydrotherapy") to maintain some fitness. However, Melissa Landau had to buy him some larger sized clothing for court cases, as he has put on over 10 pounds compared to his normal racing weight this time of year! Landau notes, "as we get older, it's harder to not put on extra pounds and retain lean muscle mass.  I find it actually takes me longer to warm up, get limber, cool down and stretch. With consistent effort, mindful eating and training we "grand masters" athletes can avoid injury and unnecessary weight gain. It takes foresight to plan a successful season and going to these events makes for fun adventures."
.
If you, or someone you know, have any questions about the Kinetic Multisport series events, triathlon racing or legal questions related to training accidents or traumatic injuries, please call (703) 796-9555 or email us at frontdesk@landaulawshop.com.