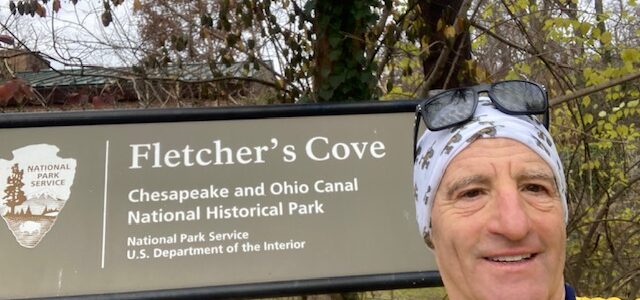 Chutzpah Chanukah Run on the C&O Canal along the Potomac River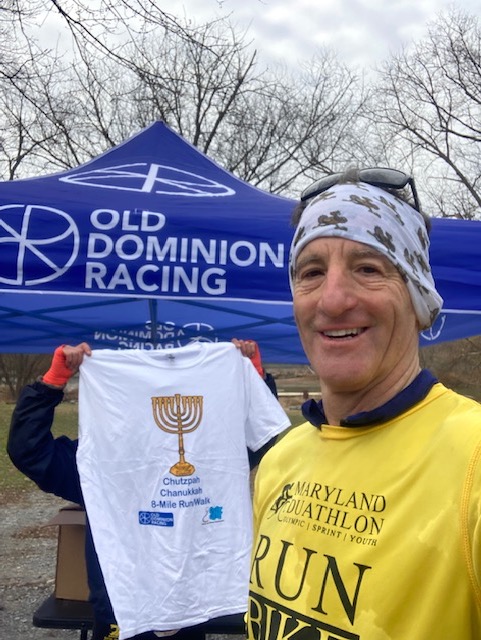 Old Dominion Racing's "Chutzpah Chanukah 8 miler" at Fletcher's Boathouse on the Potomac River enabled joggers, walkers & racers to burn some calories before enjoying latkes & other holiday treats. This race was unusual in that there was pre-race coffee, using genuine Israeli Ethiopian Falasha coffee; a later than usual start; and, an out & back AND then different out & back course on the scenic packed sand trail. Plus, this is an unusual distance; 8 miles for the 8 nights of Chanukah, is nearly 13 Km. So runners were treated to a sunny, mild, FLAT course with the only turns being the 2 hairpin turns at each end. The challenging part of the course was knowing where and when to turn around, as there were a number of other races going on at the same time on the same trail!
With an "Outdoor Challenge Series," a "Singleton Race Series" where participants can run solo & track their accomplishments, and a number of races at fun venues, oftentimes off paved roads, Old Dominion Racing puts on some wonderful events throughout the Washington, D.C. Metropolitan area. Herndon attorney Doug Landau and his wife have raced in Old Dominion events at the lovely Algonkian Park on the Virginia side of the Potomac River, as well as the C&O Canal Run in DC.
The volunteers are friendly and helpful. Today's ultimate turnaround and water stop volunteer was none other than DCRRC stalwart James Scarborough! While warming up, Landau saw his friend and retired Army officer and road racing regular Mike Cannon turn around during the Bishop's Events 5km. They caught up after all the races, with Cannon showing off his Keller Williams running socks. Melissa Landau is a lead agent for the Keller Williams ("KW") Reston Office, AKA "Flynn Realty," so Lawyer Landau was envious of his friend's footwear!
---
---
In fact, there were a number of DCRRC and PVTC regulars out on the Canal. This is because there were several races ongoing on this path at the same time. The KenGar Half Marathon was being run Sunday morning, as was the Bishops Events 5km, 10km, 21km events. In addition, there was an EOD event, Georgetown University Track Team practice and a regular Half Marathon training run from the Western locks of the Canal! In short, there were mile markers, water stations, spectators cheering and several finish lines along the course!
Lawyer Landau went out quickly, and was in first for the first 2 miles. Then, just prior to the first turnaround (after the Bishops Events Finish Line and Party Space), he was passed by a runner with a bright turquoise sweatshirt tied around her waist. Landau was running about seven and a half minute mile pace, and had a goal of breaking an hour. On the return toward the starting line, he lost ground to the lady in the turquoise, but could still see her. After passing the start line at about 5 miles, Landau lost sight of the woman he hoped to catch. He was passed by 2 young runners, but they turned out to be collegiate tracksters who were not in his race. Otherwise, no one from any of the other races came close to passing Landau on the sandy route. With no water at the mid-way aid station, Landau picked up the pace to try to regain the lead. However, the swift turquoise lady was nowhere to be seen. Landau grabbed a cup at Scarborough's turnaround and headed for home, not knowing how far behind he might be. Hitting the tape in 1:01:37, he was less than 2 minutes behind the winner, at an average pace of 7:42/mile for the 8 miles trail.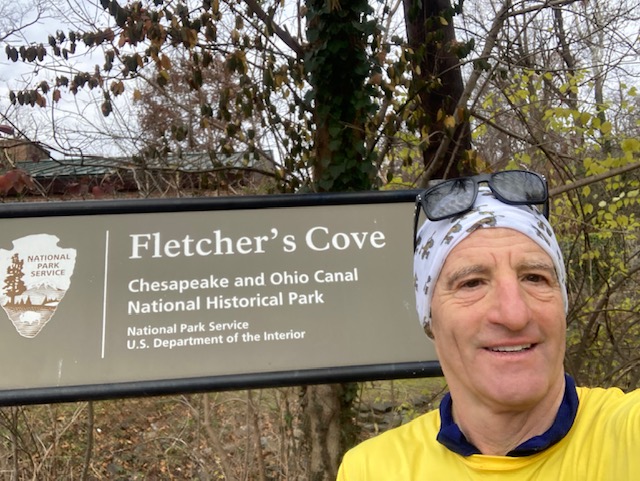 Landau learned that he is once again a runner up this weekend. The first place runner had given her bright turquoise sweatshirt to her husband when she passed the starting line at about mile 5! Lawyer Landau then waited for Melissa to finish her run, so that they could clean up and hasten to catch the noon train. The Landaus were leaving on the Amtrak to New Jersey in order to see Doug's middle daughter, her wife, their son, his brother, sister-in-law and other family for the holiday. While up North, the Virginia Landaus intend to see Doug's mother, sister, nieces, nephews and others in New York City.  After two consecutive runner-up finishes, Doug is having quite the successful "off season" from multisport racing. No Triathlons or Duathlons are on the calendar until April of 2022. Normally training at a very high intensity level, Landau is currently doing no fast swimming or biking, and only an occasional run interval workout. Next month he will start ramping up for a winning 2022 season.