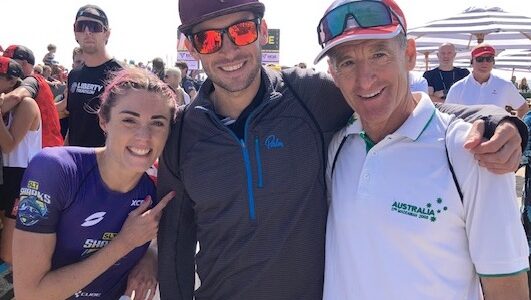 Does Triathlon World Champion Vincent Luis Have ANY Legal Rights When Led Off Course & Struck By A Car?!!?
While leading the Ironman 70.3 race, World Champion, Olympic Bronze Medalist and Super League superstar Vincent Luis was hit by a car. How did this happen?
Making his debut at the Half Ironman distance in California this month, Luis had recovered from his pre-Olympic calf injury and seemed to be in top form.  The Frenchman had his usual terrific swim and was "pushing good watts on the bike," and with only 6.2 miles left on the 56 miles bike ride, he had a 2:00 lead on the field. According to his post on the Face Book:
a car hit me and I hit the ground really hard. Jumped back on my bike and reached T-2 with [Canadian Ironman] Lionel Sanders. My run was just a struggle and my only goal was to reach the finish line and have a check up with the doctor.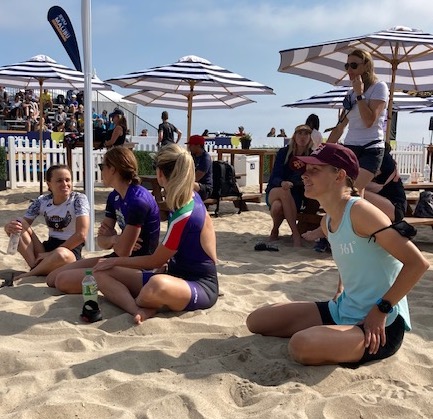 The photos of Vincent Luis on the run show blood, scrapes, road rash & an indomitable spirit. According to posts by Luis' partner, the American Super League triathlete Ms. Taylor Spivey, he was directed off of the race course by a police officer. While off the race course, Luis was struck by a Tesla. He was able to finish the bike a few seconds behind Sanders, who eventually won the race. According to another post by Spivey,
"A traffic cop on the course told the lead car and Vince to turn off the course., instead of going straight. Then in a neighborhood a Tesla car turned into him and hit him."
To clarify. The lead car was clearly marked. Very visible, written on the front in big neon letters.

The officer directing traffic blocked the course (the straight line) by standing in the middle of the road. He pointed for the lead car and Vince to turn off the course. The referee motorcycle followed them (and wanted to give Vince a penalty – after the car hit him – for going off course).

The lead car knew the course, but had no option but to go off course.
Having been asked what rights and remedies Luis would have, USATriathon All American, race series sponsor and sports injury lawyer Doug Landau considered a number of factors.
First, while ALL athletes are charged with knowing the course, they are also instructed at pre-race meetings to ALWAYS follow the instructions of volunteers, race course marshals, law enforcement, and medical personnel. This can cause a dilemma when the athlete knows the correct course, but must follow the directions or be disqualified. Lawyer Landau has personally experienced this at the USAT National Championships at Lake Charles, Louisiana. He had not only run and ridden the race course several times in the days leading up to the race, but he even marked every quarter mile with chalk! However, he and the rest of the lead pack were directed to make a turn on a road Landau knew went straight ahead! Running 6 minutes per mile or faster, he asked the volunteers twice on the fly! So off they went. For an extra 2km in a 5km race! They all: finished off the podium,;got a long apology letter from the Race Director; did not qualify for the World Championships. There was no remedy from USAT.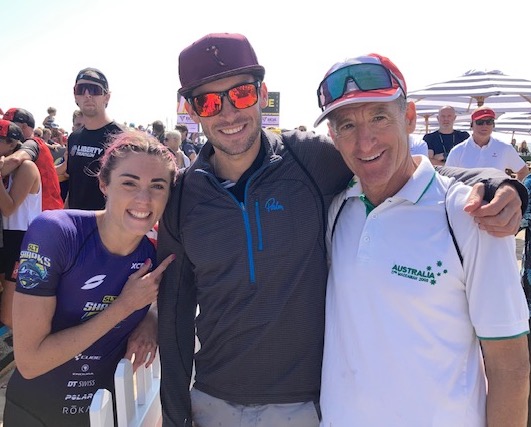 In Luis' case, it is likely that the sport's governing body will do little to nothing to compensate this professional athlete, other than perhaps to provide some limited covered for medical bills.  USAT members who are injured in USAT sanctioned races have available several thousands of dollars of "Medical Payments" coverage, for medical care incurred within a year of the crash injury. This, in and of itself, takes care of immediate needs, avoids lawsuits and is a smart benefit to provide. When Lawyer Landau put on races in the past, he purchased insurance from the DC Road Runners Club and other entities who had such policies of protection. "Even where a Race Director &/or producer has a Legal Liability Waiver or Release, having additional Medical Payments coverage is a smart idea," added Landau.
Secondly, the Race Director has the protection of the pre-race "Release of Liability," although California has a number of liberal and "pro-victim" laws, as opposed to Virginia. In other words, the Race Director and Race production company are insulated from lawsuits for simple negligence.  These Releases or Waivers of Liability do not protect the Race Director or staff from a lawsuit for punching an athlete in the nose, libeling or slandering them, or stealing their $14,000 bicycle!
Thirdly, does Vincent Luis have a case against the police officer who directed him off course? Unlikely, even under very liberal California law, as most police departments have "sovereign immunity" as an agency of the state government. Unless Luis can show "Gross Negligence" (which is the standard here in the Commonwealth of Virginia), his lawsuit would not get to a jury and would likely be dismissed by a judge at a very early stage in the case. Police, fire, rescue and government officials are protected by this doctrine of "sovereign immunity," as the rationale is to protect public servants who perform important safety, law enforcement and legislative functions from litigation.
Fourthly, evidence tends to suggest that Luis may have a case against the Tesla driver. If that motorist failed to pay full time and attention, or was distracted by texting, or speeding, then the French triathlon star would have a strong liability case against the unsafe driver. The unsafe driver would not be protected by the race Releases or "Waivers of Liability."  Likewise, unless the unsafe driver was performing some governmental duty or a diplomat, there would not likely be any immunity. It is unclear how the Tesla did not see the Race Lead Car, with the neon signage, the referee's motorcycle, Luis on his bike in a bright white kit going 20-20 mph or not know that this important race was in the vicinity. Evidence tends to suggest that Luis' managers ad agents will explore his legal options, as this crash cost him the title, may have put his fitness back and resulted in permanent scarring. As for the potential scarring, dermabrasion and scar revision surgery is expensive, and would require time away from intense training, all of which could be sought as elements of Luis' damages claim against the unsafe driver.
If you, or someone you care about, has been an injured in a triathlon, running race, bicycle tour, or training for an athletic event, and there questions as to what laws apply, please email us, text us or call us at 703–796–9555 at once, because there are strict legal deadlines that apply to these cases.
Triathlon Magazine broke the story here:
World champion triathlete Vincent Luis hit by car while leading Ironman 70.3