Rock Hall Ends Maryland Triathlon Season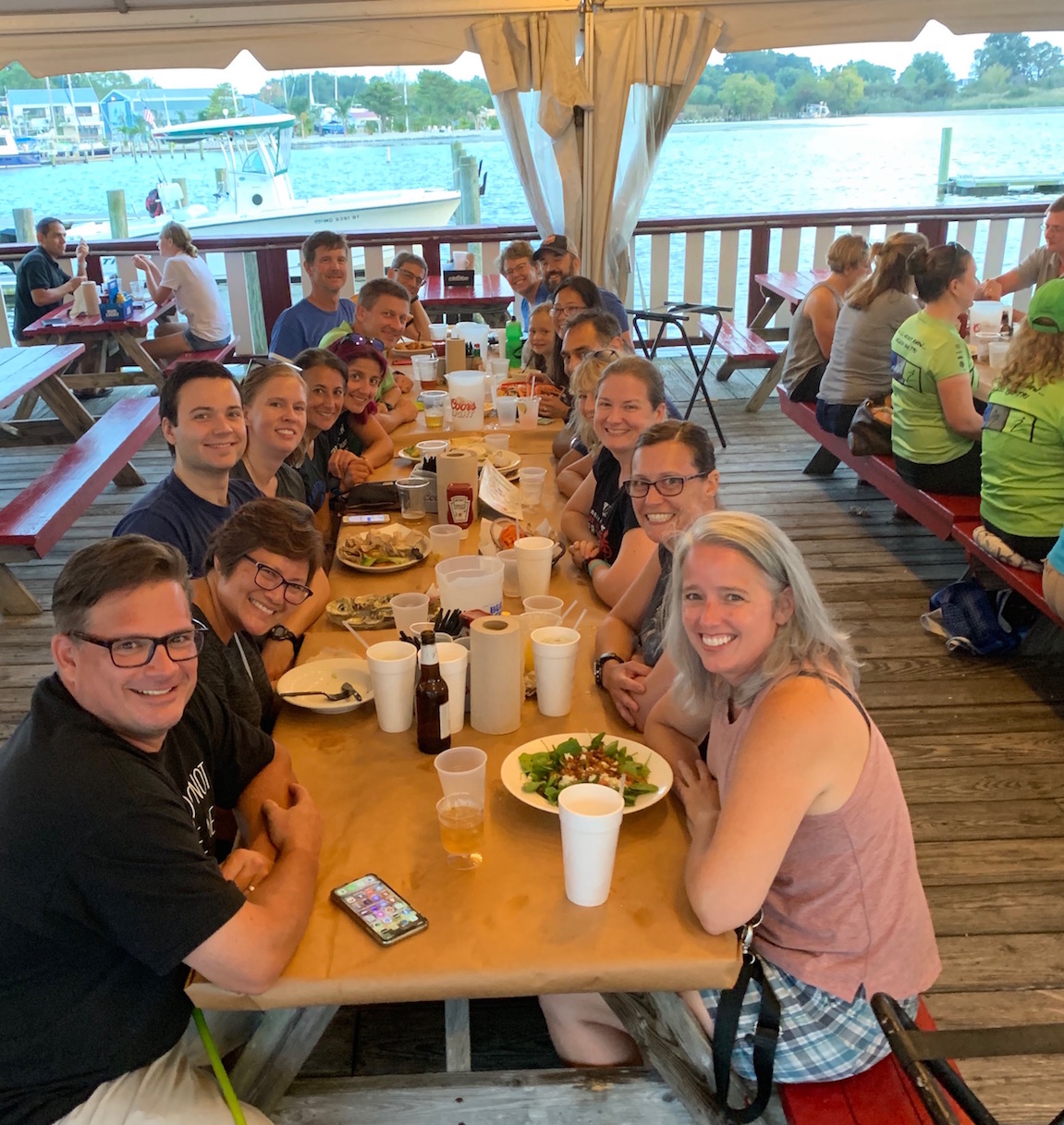 Hot weather, fast courses, calm water, cooling breezes and unicorn speedos made for a fun time at the Kinetic Multisports Waterman's Sprint Triathlon. As the last of the Maryland and Virginia Triathlon Super Series races North of DC, this event has traditionally been a time for celebration, and this year was no exception. The always smiling members of TeamZ celebrated at Waterman's Restaurant Saturday night after the Olympic and Half IronMan Distance Events. They also had a big presence on Sunday for the Sprint competition.
The Waterman's Triathlons are held on the edge of the Eastern Shore of Maryland in picturesque Rock Hall, MD. While the venue is close if you could helicopter from DC, the traffic meant that the drive was over two hours for the Landaus from Dulles Airport. Melissa and Doug participate most every year, in June and September, because Rock Hall is one of the friendliest, serene and picturesque Kinetic Multisports race sites.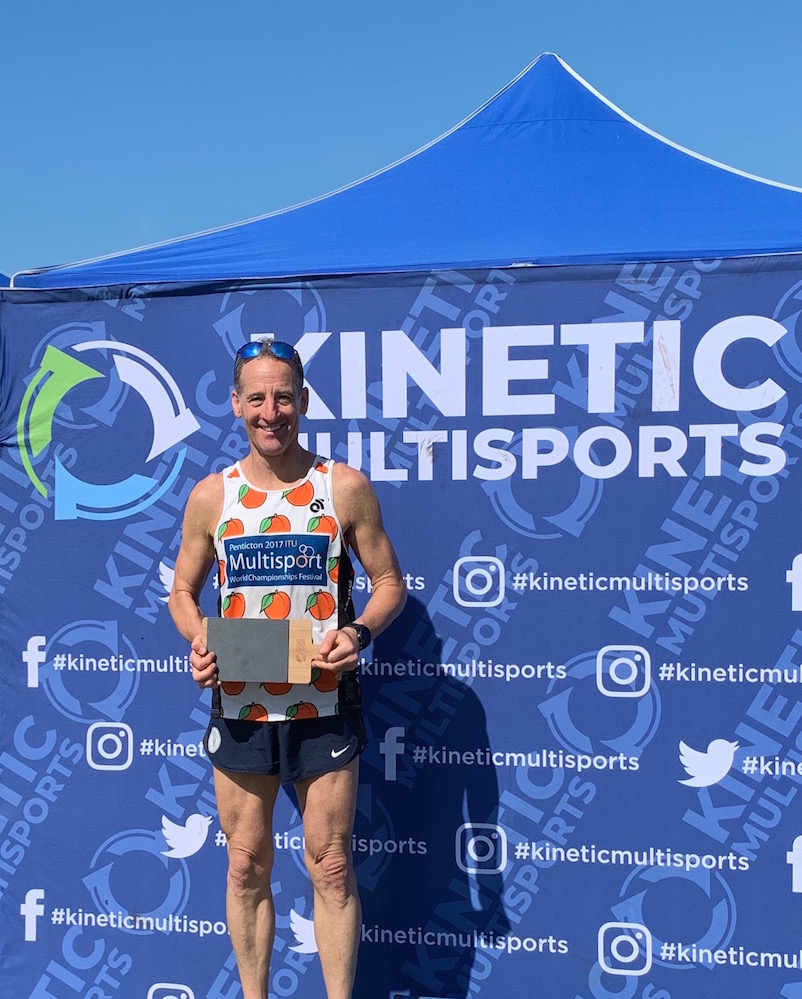 This is a fast venue, as the swim took place in the protected Rock Hall Harbor on the Chesapeake Bay. Athletes were greeted at the 9:00 start with sunny skies, no wind or chop on the water in a wetsuit legal race. The bike course was a triathlete's dream, with well maintained pavement, mild breezes, and wide shoulders throughout most of the rural course. The run course was pancake flat through the quaint nautically themed neighborhoods and side roads of Rock Hall, with a turnaround where one could gauge their placing. In short, both Landaus agree that this race is worth the trip to Maryland's Eastern Shore. Plus, the food is fantastic, and eating al fresco by the water at sunset is always a treat. The Landaus enjoyed fresh seafood at Watermans Restaurant with Tidewater Coach Dai Roberts, his bride (who broke her half-iron PR by 30 minutes that morning!), VTS/MTS over 60 stalwart Tom Stroup and one of Dai's fit trainees. How easy is it to get around Rock Hall? The Landaus could walk from packet pickup, to their wonderful lodgings at the Black Duck Inn and then on to supper, all within about 100 yards of each other!
As for the race, Doug Landau failed to make the podium at the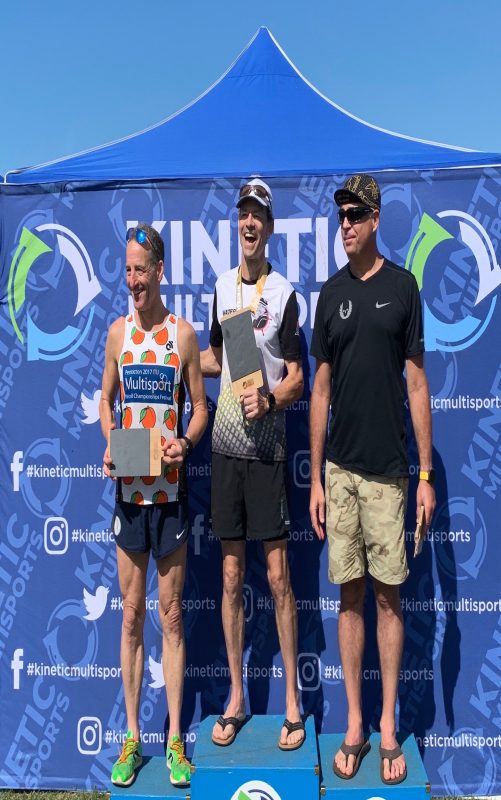 race on the same course in June, despite giving full value, so, needing race series points and having several good finishes recently, he was looking to get back in the listings. Lawyer Landau had a good swim, and then, once on dry land, was not successfully passed by any athlete until the women's winner caught him halfway through the 5km run. Actually, Landau made a wrong turn and ended up running an extra several blocks before realizing his mistake. That error cost him a spot in the age group, after working hard to averaging 23 mph on the bike and under 7:20 on the run before that mishap. Nevertheless, he recovered his composure and got the bronze in his category, just behind his friend and sometime National Championship roommate, Tom Stroup of Great Falls. Stroup won his category, and is sitting comfortably in first place in his age group for the series. A racer's five best scores are counted and some competitors have over 16 races in their columns to choose from. Lawyer Landau only has four so far, but hopes to get to five before the last race in Virginia in October.
In addition to the individual and series competitions, the Landau's friend (and frequent racer) Todd Pederson got several triathletes to sport the unicorn speedo, in recognition of his wonderful wedding in March. Overall winner Jacob Capin, Landau and others wore this outfit during the race, and there may be sunburns in places that usually do not see the sun! If there were a fashion prize, "Team Unicorn" would have certainly been recognized for their "cheekiness!"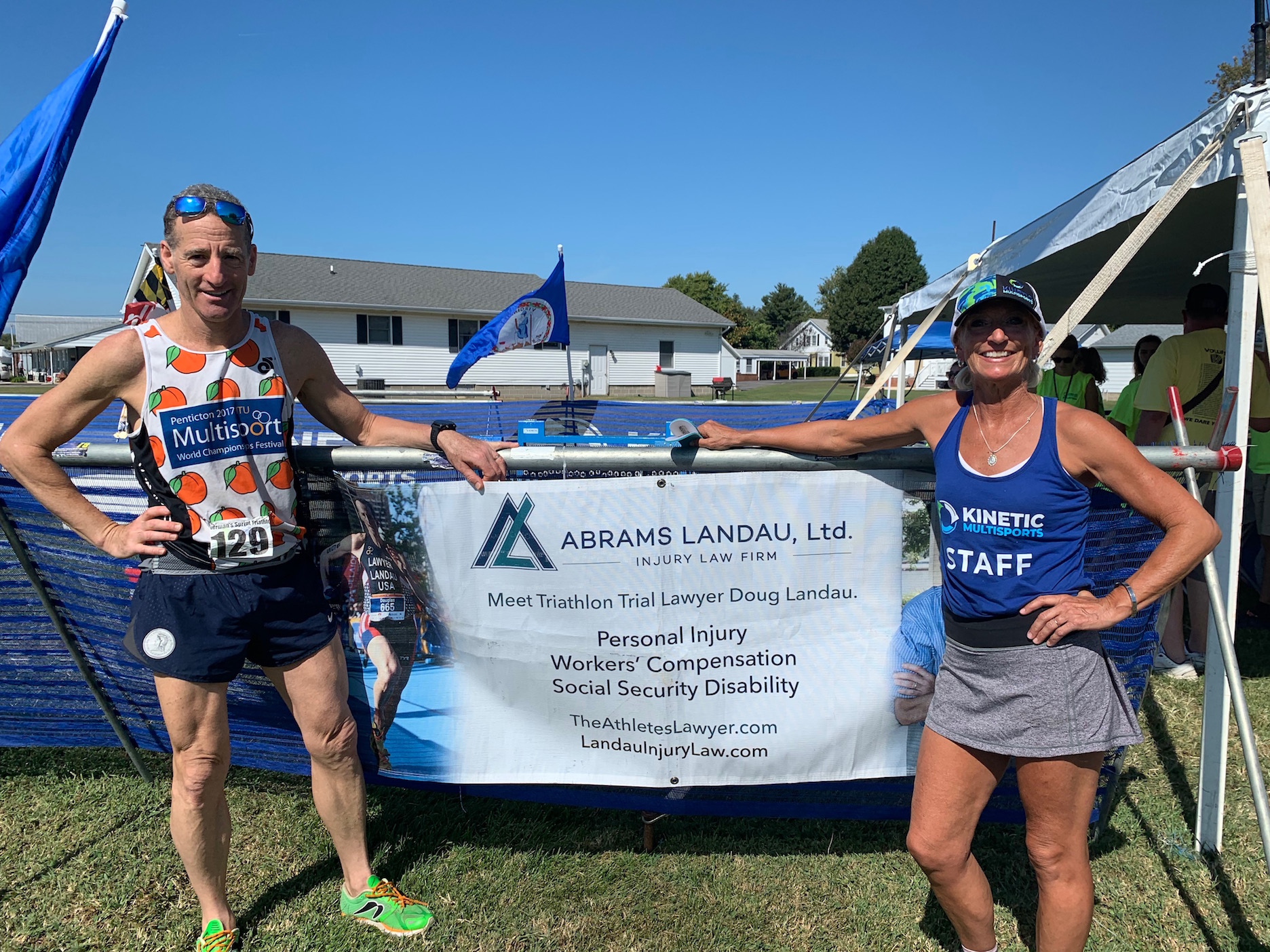 Melissa Landau had a strong race, with a good bike leg. Just prior to the start of the race this veteran triathlete (and wife of a frequent multisport racer) realized that while Doug had done his usual efficient packing of the car for the "race road trip," her running shoe insoles were missing. Unlike her crazy husband, who packs for every race with extra shoes (for warming up and in case the swim is cancelled and the event becomes a Duathlon), Mrs. Landau only had her dress shoes and one pair of racing footwear. Luckily, before Doug cannibalized a pair of his own insoles, Kinetic Multisports irrepressible Volunteer Coordinator Jaynie Langford came to the rescue. Seeing that they were about the same size shoe, she let Melissa borrow a pair of her insoles. All smiles until she saw her husband's minimalist garb, Melissa enjoyed the post-race BBQ, music and camaraderie. The Landaus had a fun time, as always, in Rock Hall.
This is a race weekend not to miss, and the Landaus have already made arrangements to travel to the Eastern Shore again to participate in 2020. See you there!