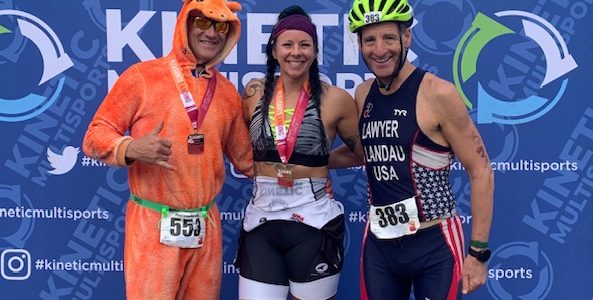 Pleasants Landing & a Quick Take Off to the West Coast
On the same site as the "Rumpus in Bumpass Race," the Pleasants Landing Triathlons were a chance for multisport athletes to get a late season race in bucolic Spotsylvania, Virginia. The Lake Anna venue enabled spectators to watch the whole swim leg, as athletes swam around the transition area peninsula. The day started off chilly with smoke on the water. The wetsuit legal event had a water temperature of 76 degrees, good clarity and manageable sized swim waves. The Olympic distance race started at a very civilized hour (9:00), with the sprint race 30 minutes later. Both races used the same bike and run courses, with the longer race doing two laps. The out and back run included some gravel road and cross country elements, so there was something for everyone. Kinetic Multisports Pleasant Landing Triathlon, AquaVelo (Swim/Bike), Relay and Aquathon (Swim/Run) races enabled athletes of every skill and fitness level to participate to their potential.
Because he had only four races in the 2019 Kinetic Multisport Maryland and Virginia Triathlon Super series, and an athlete's top five scores are counted, Doug Landau needed one more race to be competitive. There were athletes in his age group who had completed over 18 races, which meant that the score from a bad race could be ignored. Lawyer Landau, who was expecting to have to leave for California for the birth of his first grandchild the prior week, had no such luxury. The prior week, Mrs. Landau left for the West Coast, and she purchased a ticket to Los Angeles for her kinetic husband to leave Saturday after this race, unless their daughter went into labor beforehand! After being unavailable for early season races in April and May, Landau had a less than stellar first race in June, which meant that he would have to make the podium in Spotsylvania to have any kind of a chance at a Series Award.
On race morning, Landau not only had his bike and triathlon needs packed in the car, but also his change of clothes and suitcase in case he had to hightail it to Dulles Airport! Plus, he had promised his long-time friend, mentor, legislator and fellow Virginia Trial Lawyer Bernard Cohen, a visit while in the Fredericksburg area. Landau lived with the Cohen family in Alexandria when he first moved to Virginia in 1982. "Make every day count," is a motto Lawyer Landau lives by, "and try to do a good deed for someone." And, when it comes to racing, "run like you stole something!"
After watching the Olympic Distance athletes maneuver around the swim course, Landau warmed up on dry land and then jumped in for his race. A solid effort swim and a decent transition were undone when the straw to Landau's aero bottle fell out as he raced up the steep grassy hill to the bicycle mounting area, and he had to run back and retrieve it. No only did he lose time to ensure that he would be able to hydrate on the 20 km ride, but had he left his equipment behind, he could have been assessed a time penalty for "abandonment." Because the straw was unsecured, Landau raced with it in his cheek during the entire bike leg! Fortunately there were no steep hills requiring extensive out of the saddle climbs. At the dismount line, Landau carried his bike during much of the descent to T-2 rather than risking another problem on the grassy area.
After a strong bike leg, and once into his running shoes, Landau tried to run down as many of the athletes in the Sprint race as he could. Top speed was not possible through the woods, because of well-marked roots, trees and a zig-zag route. But once on the undulating road, Landau could see that he was about 40 places back from the leader. Passing a number of athletes, Landau charged to the finish. The computer-generated results receipt available at many Kinetic race finish lines indicated that he had finished in the top 20 and was likely an age group prize-winner.
Because he had promised to visit his friend and mentor, and then had a plane to catch, Landau raced from the race and did not stick around for the awards ceremony. Because of the wildfires in South California, the airlines had sent the expectant grandfather messages to get to the airport two hours before his flight. Arriving early for both the race and the departure lessened the stress somewhat, and the flight left and landed on time. He made the podium and has his five races for Series scoring. Where he will ultimately end up in the ranks, is as yet undetermined.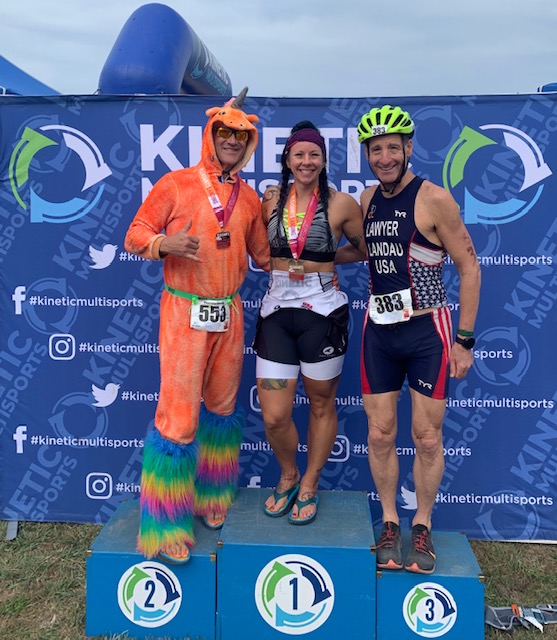 Results for the Kinetic Series have not yet been posted after Pleasant Landing, and there is another race yet to be contested at Smith Mountain Lake, in the Roanoke area of Southwest Virginia. The Collegiate Cup race is an invitational for University students, but age group athletes can also score Series points in this last race of the season. Landau enjoys competing against college-aged athletes, and the energy from the team spirit often inspires him to race faster. Plus, the Kinetic Multisports make these events fun for the younger athletes. At Pleasant Landing, Volunteer Coordinator Jaynie Langford had a very young crew well-spaced throughout the course. Don White had Kinetic kits, and other tri gear for purchase before and after the race. Bike course coordinator David Stubbs' route was well marked, free of glass and a challenging loop. And Race Director Greg Hawkins was everywhere, even working with local law enforcement concerned about the decibel level of the morning's PA system! Professional race administration, immediate computer and paper results, free pizza and a family friendly post-race picnic area (complete with moon bounce) made for a fun morning for participants large and small.