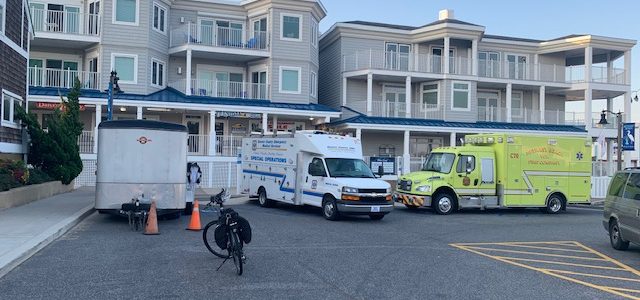 Bethany Beach Delaware's First Responders Sports Weekend Had Something for Everyone!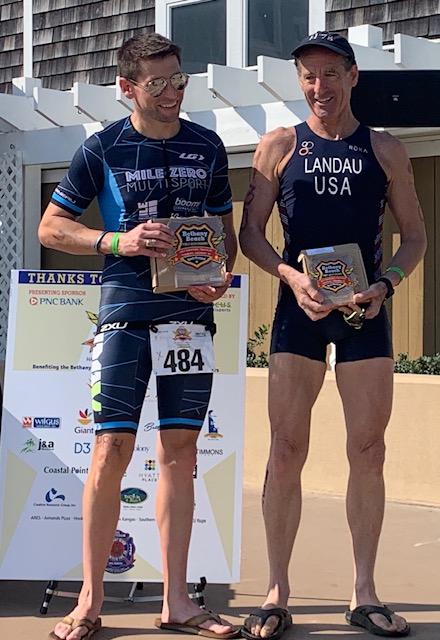 Perfect weather, experienced race crew and lots of friendly volunteers made for a wonderful race weekend at Delaware's Bethany Beach. The Bethany Beach First Responders Sports Weekend was a hit again this year for participants and spectators alike. Athletes could run, bike and/or swim and enjoy Bethany Beach's beautiful clean air and ocean waters. The bike course took cyclists along one of the most tranquil and scenic areas of Coastal Delaware and over the bridge and back. Runners went  through area towns along the coastline. Bethany Beach was named as one of the "best secret beaches on earth" by Travel & Leisure.
The weekend's events included a Half Marathon; Half Marathon 2 Person Relay (7 miles 1st Runner, 6.1 miles 2nd Runner), 5k (3.1 miles); Triathlon (Swim, Bike, Run) 1000 meter Ocean Swim (.62 miles), 30k Bike (18.5 miles), and 7.4k Run (4.5 miles); Duathlon (Run, Bike, Run) 2k Road Run (1.24 miles), 30k Bike (18.5 miles), and 7.4k Run (4.5 miles); Aquabike (Swim, Bike Only) 1000 meter Ocean Swim (.62 miles), 30k Bike (18.5 miles); and Team Relays – 2 or 3 person Triathlon and Duathlon Relays. So folks of all abilities could participate. The beneficiary of these races was the Bethany Beach Volunteer Fire Company & First Responders.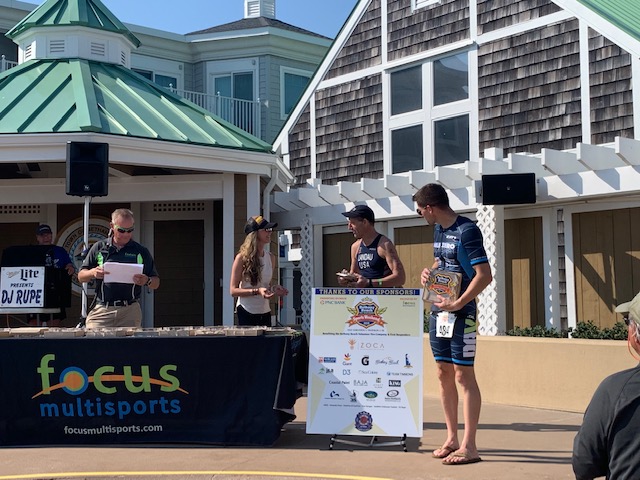 Doug and Melissa Landau once again signed up to test their mettle in the Duathlon. Longer than most sprint duathlons, the race followed the familiar Run-Bike-Run format on a hot, flat running course and a bike course that took riders over the bridge and back, with some cross winds coming off the ocean and the bay. Lawyer Landau finished 8th last year, winning his age group, but he was hoping for better this year, especially as it was supposed to be warm and dry on race day.
Race morning was picturesque, and Lawyer Landau was able to get a good warm-up and Transition area position (next to his wife of 35 years!). Coming home in 6th after the first run in under 7 min./mile pace, Landau could not tell what place he was in on the bike because the other events' athletes were mixed in on the bike course.  Putting together a number of 25 mph with the wind at his back on the way out, Landau was able to pass a number of bikers. On the way back, into the wind, Landau was passed, but kept close, counting on another quick transition to put him near the leaders. A steady 2nd run finishing on the boardwalk concluded the day's good effort. When he went to the computers outside the finishing chute, his results were not yet posted. Later, after a cool down run in the cool, salty water, Landau had another duathlete plug in his race number to get results. The font was too small to read, so Landau had the results read to him – 3rd overall! Furthermore, Melissa Landau finished in the Top 20 for women and was runner-up in her age group. Not a bad day for the Landaus! What makes this more remarkable is the fact that Melissa and friends with whom they stayed, polished off a bushel of local crabs the night before!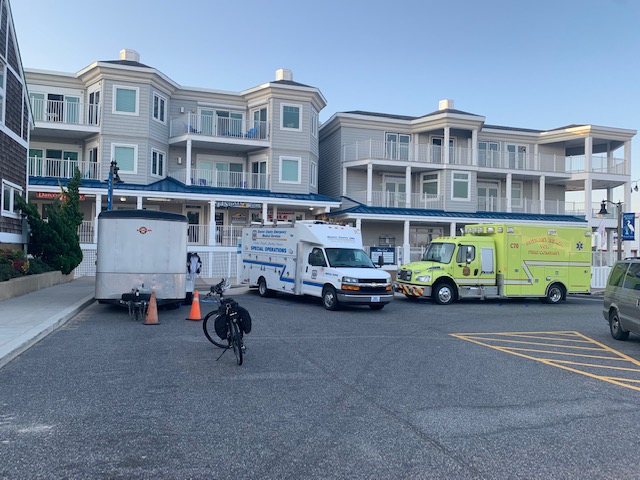 Race Director Ken Racine does a wonderful job. The packet pick-up at the Firehouse lets athletes see up close what they are supporting. The BBQ buffet after the race on the boardwalk, put on by Zoca Restaurant, was also a hit. Athletes could have beer and spiked seltzer after the event, and many enjoyed the beach and town's offerings afterwards. Lawyer Landau enjoyed the "hydrotherapy" with several other competitors, as they jumped the waves until the awards ceremony. All in all, the Landaus hope to come back next year to the Bethany Beach Duathlon.