College Teams Rock Jamestown Triathlon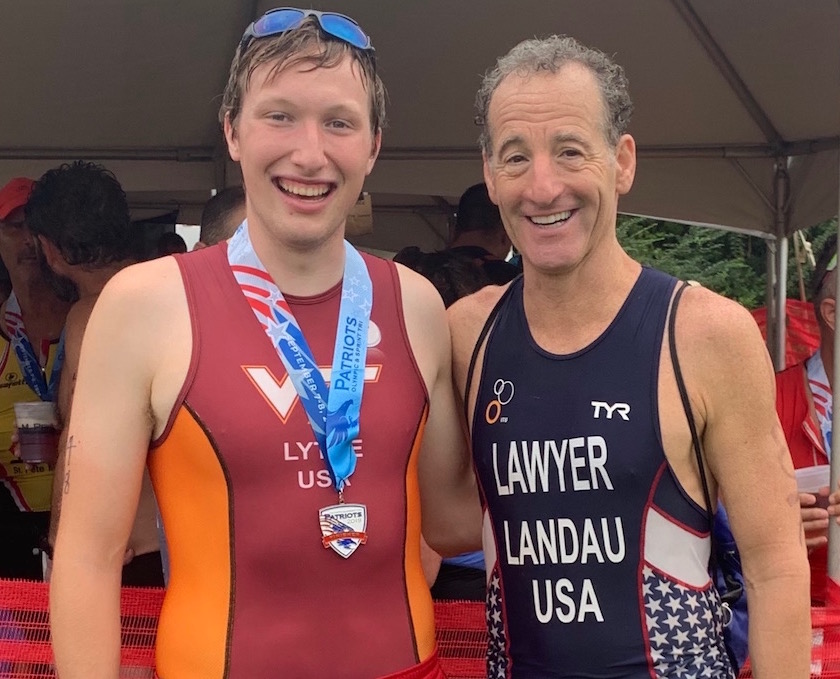 Some of the best collegiate triathletes and university teams arrived in the Williamsburg area to test their mettle at the beginning of the new semester. Virginia Tech, Navy, and University of Virginia were there in numbers while the College of William & Mary's swim team provided many of the smiling volunteers along the race course. With a race venue just minutes from historic Colonial Williamsburg, Virginia and next door to the original Jamestown Settlement, Kinetic Multisports' Jamestown Triathlon provides great mid-season Sprint and Olympic races. The swim takes place at beautiful, shallow and calm Jamestown beach where, according to the race website, "you can watch Osprey catch their breakfast or see a pod of dolphins swim along the course." While there is a longer than usual run from the shoreline to the bike transition area, the distance allows athletes to spread out a bit more before mounting their bicycles. The bike course is flat, fast, not too technical and parallels the "Cap-Cap Bike Trail" along Route 5. The run course is flat, with some shade and winds through historic farmland and forest on a combination of bike paths and jogging trails.
In keeping with their high standards for races, premiums and swag, the Kinetic folks provided Tri-Blend Race Shirts, Custom Race Socks and a super cool custom Jamestown themed Finisher's Medal to all participants.  After the race there was corn hole toss games set up, a DJ, bounce house for the kids and a fabulous post race spread, with BBQ, cornbread and other treats. Plus, there was a beer tent for all athletes 21 and up.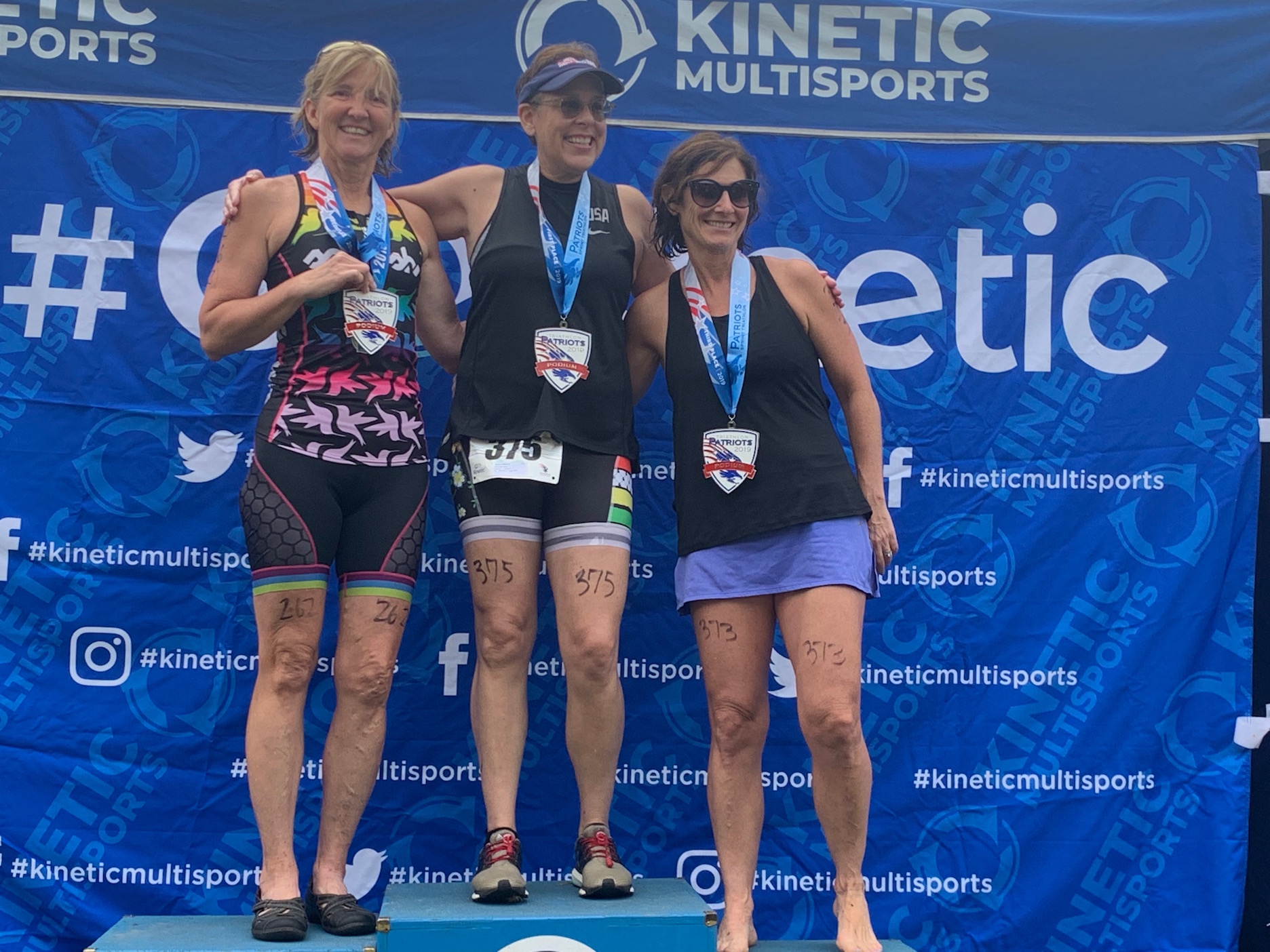 All Kinetic Multisports races are USA Triathlon sanctioned events. Jamestown race categories included: Age Group, Aquabike, Relay Teams, Clydesdale, Master's Clydesdale, Athena, Military, Collegiate, High School and Novice. All categories were scored 3 deep. Melissa and Doug Landau were in Williamsburg helping their son, Battalion Surgeon Zach Landau, USN/USMC with his move to his new billet in Yorktown. They participated in the sprint triathlon race on Sunday, alongside the college athletes. Doug was thrilled to see the "other Zach Landau," who competes for the University of Maryland's College Park Terrapin team as well as fellow Reston Bike Club member Bobby Lytle, of Herndon, Virginia. Lytle was part of the Hokie team from Virginia Tech, which is the Landau's eldest daughter and son's alma mater. Dr. Landau (VT'10) ran over 10 miles while his parents competed in the triathlon, and he ran alongside and pushed each of them to the finish line on the run.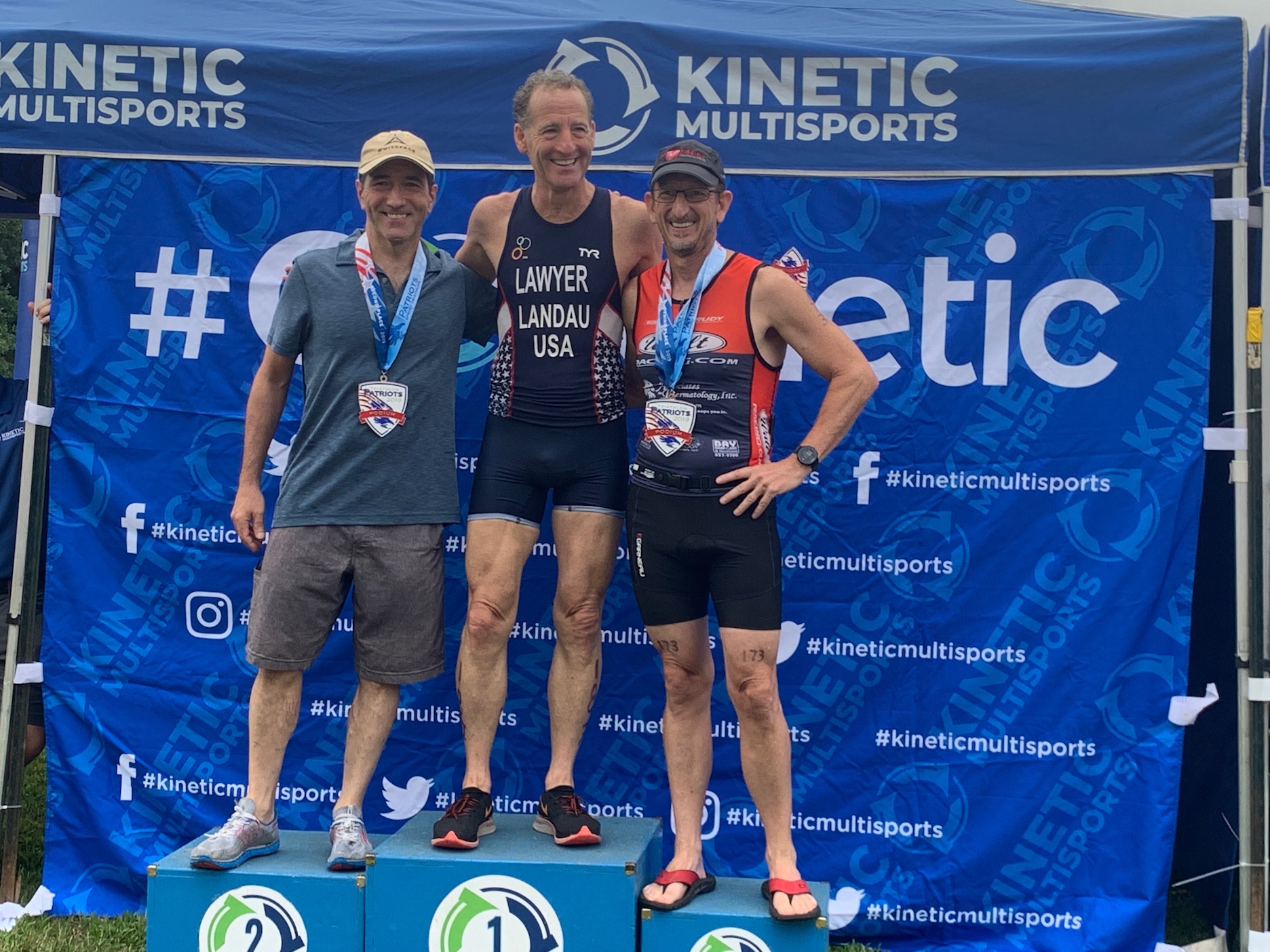 When the results were tallied, Melissa Landau ended up on the podium in her age group, and lawyer Landau won his category with a strong bike and run after a pedestrian swim. While Doug is back in the standings for the Virginia and Maryland Triathlon Super Series scoring with only three races this season (an athlete's five best finishes are counted), he hopes to have two more events such that he can be in the top 5 in his category, as he has done consistently in the past. Some competitors in his age group have completed over a dozen events! Will he complete five Kinetic Multisports events? Will lawyer Landau move up in the standings? Stay tuned…