"Racing to Save Lives" Cancer Fundraiser Is One Tough Race
There are some races where just finishing is a major accomplishment. The "Racing to Save Lives" cancer fundraiser 5K & 10K at Tymor Park in Unionvale New York is an event the Landaus have signed up for TWICE. However, both in 2017 and 2018, Mrs. Landau wisely chose to run on the roads, instead of this challenging cross country course. She was able to get in many miles while her foolhardy husband risked life and limb in the woods and fields above her.
The venue consists of "mixed terrain;" carriage path, single path trail, roots, slippery descents, grass fields and tight turns. This event in Lagrangeville is on the way home from Connecticut for the Landaus, who celebrate their birthdays with family in Litchfield County in the northwest corner of the state. Lawyer Landau first found out about this charity event from the Mid-Hudson Road Runners Club website. Landau has participated in other races put on by this New England running club.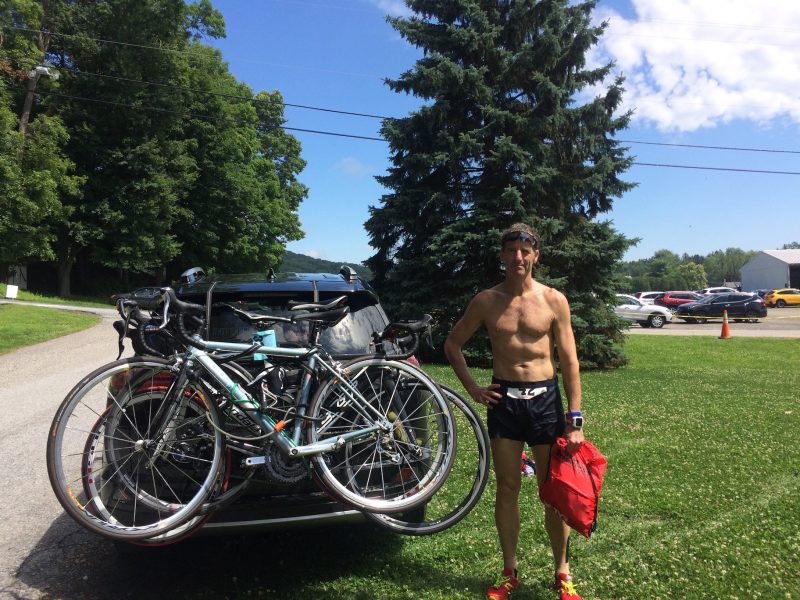 Last year Doug Landau signed up for the 7th annual 10km, but only completed half the distance. He also recorded one of his slowest times of his racing career. This year, he signed up for the 5K, finished well out of the money after falling several times, and was glad to rinse off the dirt, mud and pine needles and get back on the road home to Virginia.
Many of the runners had cross country experience. They seemed to really enjoy the varied terrain and challenging course. With the Triathlon National Championships in six weeks, Landau wanted to stay uninjured. So he proceeded with caution and still fell several times on steep descents! Nevertheless, if cross country is your "cup of tea," then this is a race for you.  All proceeds from the race go to the Dana Farber Cancer Institute. For more information about this annual July 4th week race, click here.