First Annual Luray Duathlon Takes Racers Through the Woods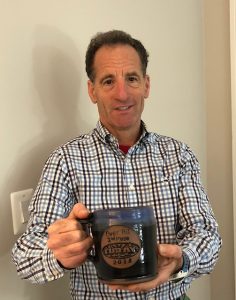 The "Run-Bike-Run" format had competitors doing the same challenging bike and 5k run course as the Sprint Triathlon competitors, but it started with a run around Lake Arrowhead, through the woods and trails first. Due to recent storms, crews were using chainsaws to cut trees that blocked the muddy, single-track course just moments before race time! Attorney Doug Landau jogged much of the first run course in order to "preview" this new addition. If he is unfamiliar with a race course, he will often drive, jog and bike portions so as to see where he may need to reduce speed for safety, negotiate stairs or other obstacles or simply make a move at a critical juncture.  He saw that after the first 600 yards, it would be almost impossible to pass once runners were in the woods, running on narrow boards and making 270 degree turns. By reconnoitering beforehand, lawyer Landau decided his strategy would be to get out quick and be in the top 5 heading into T-1.
When the gun went off, Landau stuck to his plan, and traded places with the leaders, coming onto to T-1 in 5th. A very fast first transition enabled him to stay ahead of much of the pack and then pass many triathletes. But Landau was not sure what place he was in, as the Duathlon numbers were on the front of the racers. So working hard on two wheels, Landau flew into the 2nd transition hoping to pick off one or two more Duathletes to secure an overall podium spot. Crossing the finish line, he went to the computerized race results to find out how he had done. Racine Multisports does a terrific job at their races, with results available almost immediately after crossing the finish line.
The computer results revealed that Lawyer Landau was the runner up in the inaugural Luray Duathlon.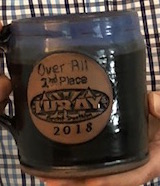 As usual, Ken Racine and his Racine Multisports crew had unique prizes for all the winners. Landau copped a cup – a large tea mug that he now uses at his Herndon law firm Abrams Landau, Ltd. The web site for the 2019 race has a picture of Landau focused after the starter's gun has gone off along with the other racers. Despite the intense look on his face, Landau enjoyed the race and has participated in Luray races half a dozen times. For information about the 2019 Luray Triathlon and Duathlon, click here. There are also practice "open water swims" in advance of these races for participants to become acclimated to this portion of the race.