Bethany Beach Bad Weather Makes for Cold Racing in Delaware
The Bethany Beach First Responders races provide one of the most popular late season race weekends. With a half marathon (& 2 person relay), 5K, Triathlon, Duathlon, Aquabike and team relays, there is something for every multisport and endurance athlete. The courses are flat, well maintained and lined with friendly volunteers. Race Director Ken Racine and his team do a wonderful job and Doug Landau looks forward to participating with his family every year at this end of September venue. This year, Landau accompanied his mother during the 5km on Saturday, while his step sister, Dr. Leslie Miller took off like a jackrabbit! There were many racers behind his mom, a retired librarian, and she is looking to train even harder in 2019. Doug's mom was again runner up in the "70 and over category." Somewhat miffed, his 83-year-old mom wanted to know why there was not an "Over 80" division!  Perhaps next year…
After finishing 2nd overall in 2015 and 2016, and still winning his division despite injury in 2017 (finishing 11th overall), lawyer Landau came to Bethany feeling confident that he could give "full value." This year's Duathlon (Run, Bike, Run) comprised a 2k Road Run (1.24 miles), a 30k Bike ride north over the bridge and back (18.5 miles), and a 7.4k Run (4.5 miles) past Sea Colony and through town, ending on the boardwalk.  Landau had enjoyed good weather previewing the course on Friday. He enjoys running, biking and swimming in this part of the Delaware shore because of Bethany Beach's beautiful clean air and ocean waters. He and Melissa agree that Bethany Beach is one of the "best secret beaches on earth," and was appropriately named to this list by Travel & Leisure.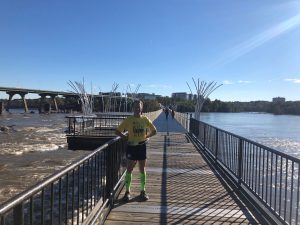 Landau went out hard in the opening run, but was in 5th when the racers came back for the first transition. Passing triathletes and duathletes the entire time he was cycling, he had another fast transition and took off after those remaining ahead of him. However, in the cold wind and rain, he was unable to get down to 6 minute mile pace, or even under 7, so he had to settle for 8th place overall. This was good enough to win his category again, but he was disappointed not to be on the podium for an overall prize. Melissa Landau had a strong race, and rode over the bridge without being pushed off course by the crosswinds. In fact, the weather was so cold, that the Landau family and their friends left Bethany early, heading to their homes shortly after the race.
Never one to "sand bag," next year lawyer Landau promises to have his running speed where it needs to be and to be in the hunt for an overall award.