Case Investigation and Race Experience
Combining case investigation and athletic excellence seems to be a hallmark of attorney Doug Landau's practice. Recently, paralegal Kristen Tanzi received information from a potential client regarding a slip and fall accident at a Prince William Hotel. Doug Landau was familiar with the Old Town Manassas, Prince William County location and so he made immediate plans to investigate to see whether a case of liability on the part of the property owner could be made.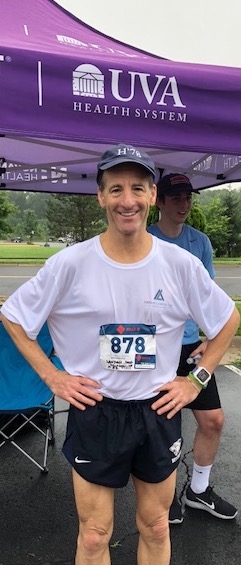 When he visits the scene, Landau seeks to "walk the walk" of the victim who has sought his legal assistance. It is critical to investigate and determine how the victim was injured. As it was an early morning injury, lawyer Landau sought to replicate the conditions so as to be precise with his case analysis. That meant he would have to be at the hotel very early in the morning, as the injured victim was thrown down as she was leaving to go to work. 
In order to prevail, injured victim must not only show that they were injured, but that there was a dangerous or defective condition on the property. In addition, the dangerous condition cannot be open and obvious, and it needed to have existed for a long enough time for the property owners for operators to have had notice such that they could repair the condition, warn about the condition, or change the condition. Armed with this knowledge of Virginia law, Landau went to the site with his camera and measuring investigative tools. The photographs and measurements and observations may then be reviewed to determine whether or not the case has merit. The motel guest programmable so severely that she is undergoing surgery. However, Landau and Tanzi both know that simply because there is a major permanent injury, like a fracture or scarring, that does not translate into automatic responsibility on the part of the motel owners or operators.
Once he and Ms. Tanzi agreed as to when and where the accident occurred, Landau found a nearby running race to do, since he would be up early investigating, measuring and taking photos of the accident scene. Finding a local 5K running race, Landau managed to finish within the top 10 despite the drizzle and humidity. Using the small event as a "training race," he was first place in his age group, second grandmaster, and ninth overall. Many of the participants were sporting Virginia Therapeutic Riding Program t-shirts, which is a charitable group that has helped Landau's clients and he has supported over the years.
After the race, lawyer Landau returned to his law firm to download the photographs and data, get a jump on the next week's mail, and accomplish other work done, as is his M.O. when he is in town. Landau leaves for Connecticut for his daughter's wedding at the end of the week.