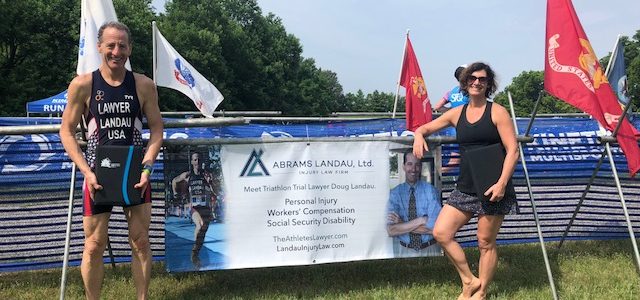 Jamestown Debut for Melissa Landau and New Abrams Landau, Ltd. Finish Line Sponsorship Banners
At the Jamestown, Virginia sprint triathlon this past weekend, Melissa Landau made her 2018 multisport debut. On this very hot, humid and flat course around Anniversary Park, Mrs. Landau raced her way to a podium finish in her very first event of the year. Hard training, consistent effort, and smart diet all contributed to her success.
Mrs. Landau's husband also managed a podium finish en route to competing at the US National Championships in August. Lawyer Landau managed a swim that was not too terrible, a very fast bike split (22 1/2 mph) and a good solid run to finish 21st overall and third in his category.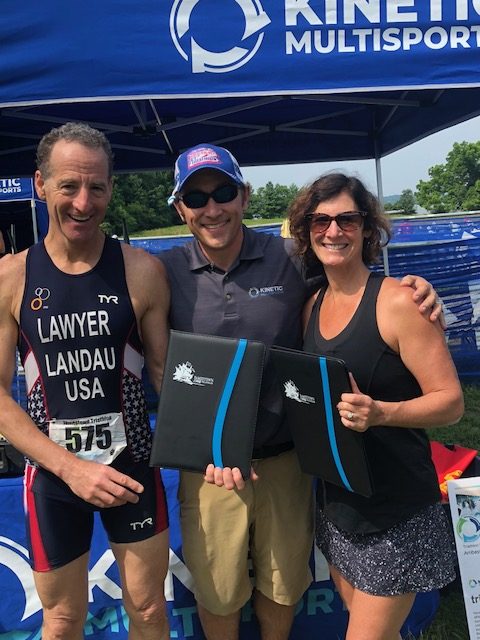 The Jamestown and Williamsburg area races, which are part of the Virginia-Maryland Triathlon Series, are a favorite of the Landaus on the Kinetic Multisports circuit. Kinetic's Greg Hawkins, Don White, Jaynie Langford and the others do an exceptional job preparing and putting on races throughout the mid-Atlantic area. The name changed from VTS/MTS to Kinetic Multisports this year when Hawkins acquired races in Delaware, Pennsylvania, New Jersey and elsewhere.
During the race and after, the Landaus were recognized for their long-time sponsorship of racing on the East Coast and their participation. This dovetails nicely with Landau's insistence on not just talking the talk but also walking the walk. "Investing our time, effort and money in these events creates opportunities for athletes from all over the East Coast to compete, maintain a healthy lifestyle and contribute to causes such as the Wounded Warriors and other charities that Kinetic Multisports contributes to each year," said Landau.
The Landaus are seen below receiving their folio awards for their age group prizes, as well as congratulations from series director Greg Hawkins. Attorney Landau's son, Marine Regimental Surgeon Dr. Zach Landau, intends to return to the Tidewater area for the Patriots Spring Triathlon, the Tidewater Sprint and perhaps other events in 2018. The Landaus also want to give a big shout out to several Kinetic Multisports staffers. Client and friend David Stubbs nearly won the whole race, finishing third overall after a blistering bike ride. Volunteer director Jeanie Langford had folks at the water stops and turns with smiles on their faces. The volunteers did an incredible job this past weekend. Don White, an officer in Kinetic Multisports (and formal Navy officer), not only works at the race, setting up at "O dark stupid" but also won his age group after a particularly strong swim split. The Landaus may also compete at the Rock Hall race on the Eastern shore of Maryland and perhaps another event in the Spotsylvania area in order to get the requisite number of races in to compete in the overall series. Stay tuned!